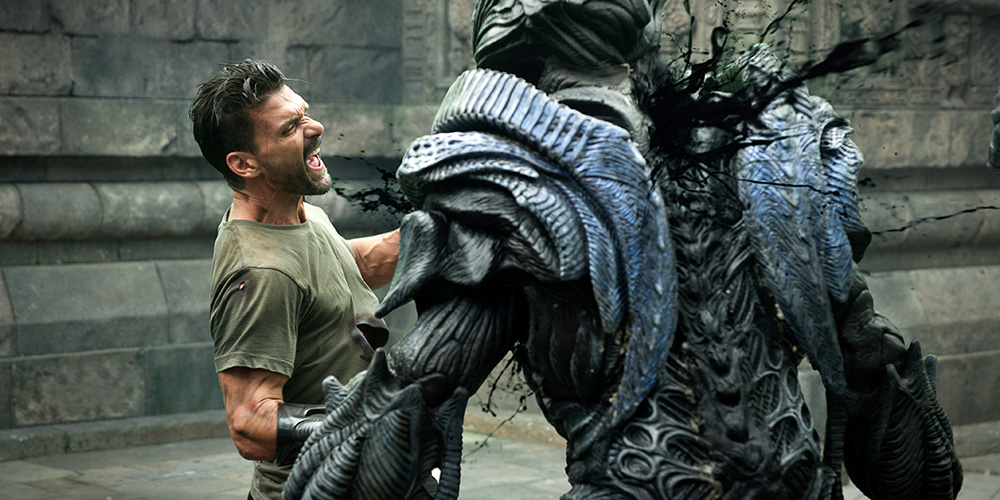 Blu-ray, DVD & Digital release: 'Beyond Skyline'
Signature Entertainment are bringing 'Beyond Skyline', the sequel to the 2010 independent sci-fi flick 'Skyline', to Digital HD on December 15 and DVD & Blu-ray on January 8.
Directed by Liam O'Donnell, the film revolves around a tough-as-nails detective who embarks on a relentless pursuit to free his son from a nightmarish alien warship. The cast includes Frank Grillo, Bojana Novakovic, Iko Uwais, Callan Mulvey, and Yayan Ruhian.
Synopsis: Los Angeles Detective Mark Corley (Frank Grillo, Captain America: The Winter Soldier) thought bailing out his eighteen-year-old son, Trent (Jonny Weston, Taken 3), was the worst part of his day. But on the ride home, the skies above fill with a strange blue light. Within moments, the entire city's population is vacuumed up into a massive alien ship. In the aftermath, father and son lead a band of survivors to the marina. But when Trent is abducted, Mark relentlessly storms after his son onto the nightmarish warship. As the aliens move across the planet, feeding off the remnants of humanity, the resilient Mark battles through the bizarre environment, uncovering their horrific secrets. Before long, he forges an alliance with an unlikely ally. Together they are able to crash the ship and rescue several abductees. Landing in Southeast Asia, they encounter a highly skilled resistance force, led by the deadly Sua (Iko Uwais, The Raid 1 & 2). In a race against time, these warriors from different sides of the world must unite to save their families and take back the planet.
'Beyond Skyline' is available for pre-order now from Amazon.co.uk.