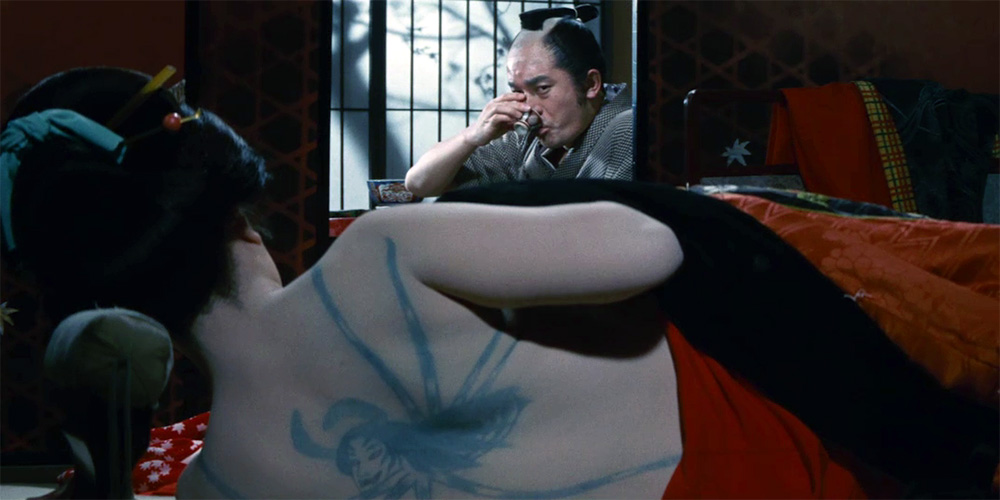 Blu-ray release: 'Irezumi'
---
Arrow Video are bringing the 1966 Japanese revenge drama 'Irezumi' (刺青) to UK Blu-ray on June 22, 2021.
Directed by Yasuzo Masumura, the film follows a woman who goes in search of vengeance after she is kidnapped and forced into prostitution. The cast includes Ayako Wakao, Akio Hasegawa, Gaku Yamamoto, Kei Sato, Fujio Suga, and Reiko Fujiwara.
Synopsis: Otsuya (Ayako Wakao), the daughter of a rich merchant, is tempted by her lover, Shinsuke (Akio Hasegawa), a lowly employee of her father's, to elope. During their flight, Otsuya's beauty attracts the gaze of Seikichi (Gaku Yamamoto), a mysterious master tattooist who sees her pristine white skin as the perfect canvas for his art. The image of the large demonic spider that he emblazons across Otsuya's back marks her as the property of another man, radically altering her relationships with all around her as her personality transforms under its influence.
Features:
• High Definition 1080p presentation from a new 4K scan
• Original uncompressed Japanese mono audio
• Optional English subtitles
• New audio commentary by David Desser
• New introduction by Tony Rayns
• Out of the Darkness, a brand new visual essay by Daisuke Miyao
• Original Trailer
• Image Gallery
• Reversible sleeve featuring original and new artwork by Tony Stella
• Illustrated collectors' booklet [First press only]
'Irezumi' is available for pre-order from Amazon.co.uk.