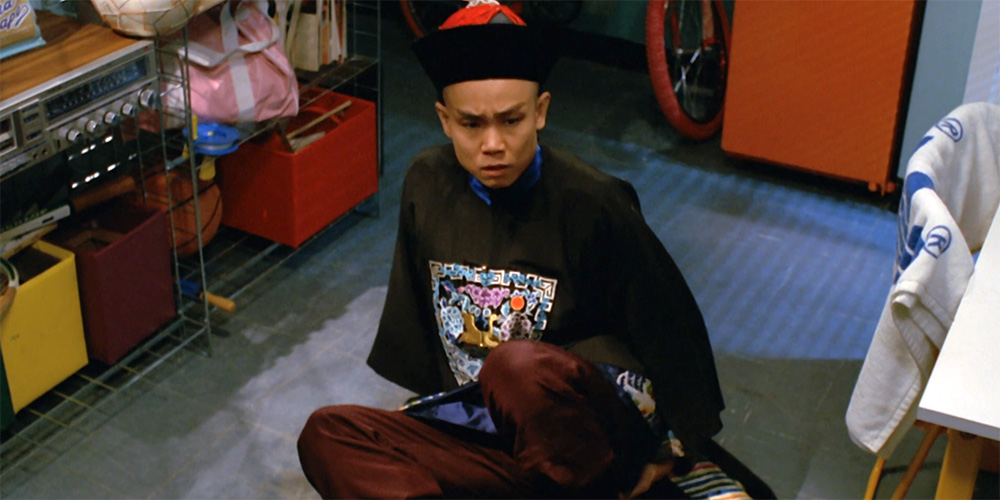 Blu-ray release: 'The Happy Ghost 4-Movie Collection'
---
Panorama are bringing four of the Hong Kong 'Happy Ghost' films to Hong Kong Blu-ray on May 13, 2022.
The Happy Ghost / 開心鬼 (1984)
Scholar Pik (Raymond Wong Pak-Ming) is a Qing Dynasty-era ghost who shows up in the present when impressionable teen Bonnie (Bonnie Law) discovers his suicide rope. Pik can't understand the weird ways of modern girls, but he's a friendly Casper-like ghost (albeit in traditional Qing Dynasty-era clothing) who only uses his supernatural abilities to trick authority figures and other blustery blowhards who could use a good practical joke. He even helps Bonnie excel at sports, and brings fun and good times to Bonnie's Catholic School posse. But when things get rough in school and the sisters go on the warpath, it'll take all of the girls' combined moxie to stop them from getting rid of Happy Ghost!
Happy Ghost II / 開心鬼放暑假 (1985)
The reincarnated Scholar Pik (Raymond Wong Bak Ming) is now an adult and a teacher at an all-girls school. However, this school is also home to "The Meanies," a group of adorable teenage girls (including Fennie Yuen, May Lo, and Charine Chan) who terrorize the school with their practical jokes and bad attitudes. Having already gone through a number of teachers, the Meanies now get Pik, and look to add him to their list of homeroom conquests. But Pik has special powers granted by his past life as a spectral being. Can he use the gifts to his advantage and help the girls graduate high school?
Happy Ghost III / 開心鬼撞鬼 (1986)
Due to be reincarnated into a child destined to become a top pop idol, Tsui Han-Pan's (Maggie Cheung) reincarnation appointment is botched by Scholar Pik (Raymond Wong Pak-Ming). Han-Pan now has to wait an extra month for her next reincarnation appointment, so she spends the ensuing time torturing Pik and generally making a mess of the school and his life. The ruckus she raises eventually grows too big, so Pik must come up with a plan to stop her. And that plan is: date her!
Happy Ghost IV / 開心鬼救開心鬼 (1990)
The Happy Ghost (Raymond Wong Pak-Ming) is called in to help his descendant Hong Sum Kwai (also Raymond Wong Pak-Ming) with his modern troubles. In addition to a possessed girlfriend (Pauline Yeung), Hong has four troublesome boy students (played by rock group Beyond) who are trying to romance a quartet of complete cuties (Loletta Lee, Fennie Yuen, May Lo, and Charine Chan). When the spirt of an ancient swordsman (Lau Shun) enters the mix, it's a trio of ancient Chinese spirts causing untold issues in the modern world! Can they be stopped, or would that cease any further hilarity?
'The Happy Ghost 4-Movie Collection' is available to order from YesAsia.com.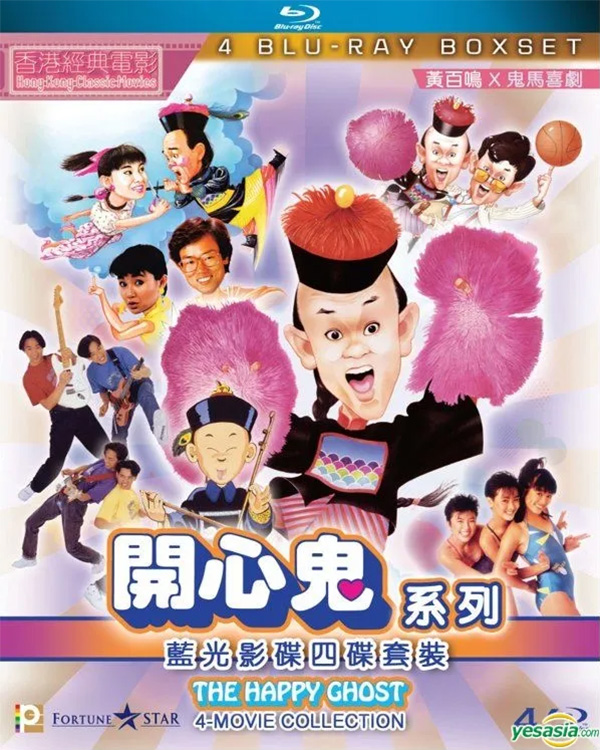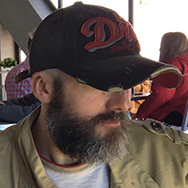 Latest posts by Phil Mills
(see all)