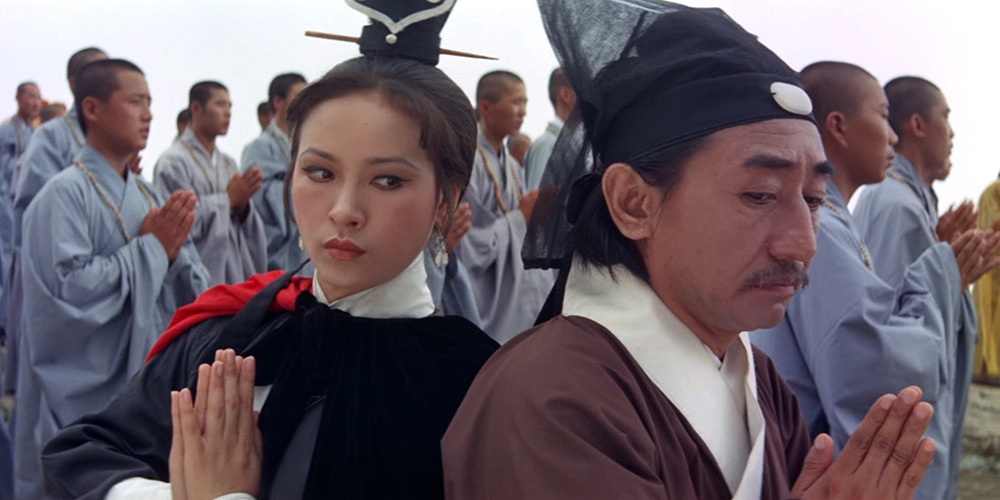 Blu-ray & DVD release: 'Raining In The Mountain'
Eureka Entertainment are bringing the 1979 Hong Kong-Taiwan martial arts drama 'Raining In The Mountain' (空山靈雨) to UK Dual Format (Blu-ray & DVD) on February 24, 2020.
Directed by King Hu, the film deals with a power struggle that ensues when the Abbot of a remote Buddhist monastery announces his imminent retirement. The cast includes Hsu Feng, Sun Yueh, Shih Chun, Tien Feng, and Chen Hui-Lou.
Synopsis: The ageing Abbot of the Three Treasures Temple invites three outsiders to advise him on the critical choice of appointing his successor: Esquire Wen, a wealthy patron of the monastery, General Wang, commander-in-chief of the local military, and Wu Wai, a respected lay Buddhist master. Within the monastery, several disciples aspiring to the position begin to collude individually with Esquire Wen and General Wang. But these two invited advisers have come with seditious intent, scheming to obtain the priceless scroll housed in the monastery: the scriptural text of "The Mahayana Sutra, " hand-copied by Tripitaka. Meanwhile, convicted criminal Chiu Ming has arrived at the monastery to atone as a monk. He is assigned to safeguard the scroll at the house of scriptures, and encounters thieving rivals White Fox who poses as Esquire Wen s concubine and General Wang s fearsome Lieutenant Chang, who originally framed Chiu Ming for the crime he did not commit.
Special Features:
• Limited Edition O-card Slipcase (First print run of 2000 copies only)
• 1080p transfer of the film on Blu-ray, from the Taiwan Film Institute's 2K restoration
• Progressive encode on DVD
• Optional English subtitles
• Original Mandarin audio, fully restored and uncompressed in its original monaural presentation
• Brand new and exclusive feature-length audio commentary by Tony Rayns
• Beyond Description – A brand new video essay by David Cairns
• Trailer
• Collector's booklet featuring new essays by Stephen Teo and David West
'Raining In The Mountain' is available for pre-order now from Amazon.co.uk.