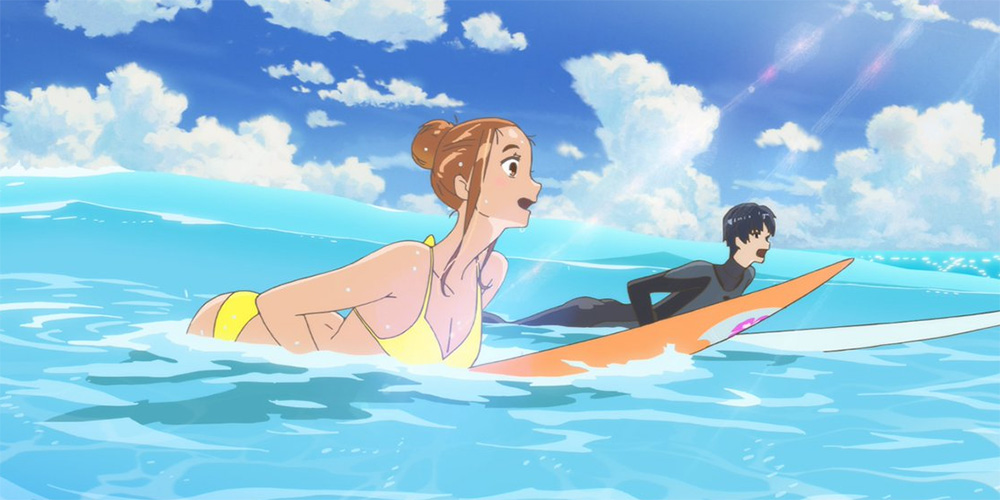 Blu-ray & DVD release: 'Ride Your Wave'
---
Shout! Factory are bringing the 2019 Japanese animated fantasy romance 'Ride Your Wave' (きみと、波にのれたら) to US Blu-ray and DVD on August 4, 2020.
Directed by Masaaki Yuasa, the film revolves around the relationship between a surf-loving college student and a firefighter. The voice cast includes Rina Kawaei, Ryota Katayose, Honoka Matsumoto, and Kentaro Ito.
Synopsis: Hinako is a surf-loving college student who has just moved to a small seaside town. When a fire breaks out at her apartment building, she is rescued by Minato, a handsome firefighter, and the two soon fall in love. Just as they become inseparable, Minato loses his life in an accident at sea. Hinako is so distraught that she can no longer even look at the ocean, but one day she sings a song that reminds her of their time together, and Minato appears in the water. From then on, she can summon him in any watery surface as soon as she sings their song. But can the two really remain together forever?
Features:
• 12-Page Exclusive Booklet
• Interview with Producer Eunyoung Choi
• Animated Storyboards
• Character Still Gallery
• Theatrical Trailers
• Region: A/1
'Ride Your Wave' is available for pre-order now from Amazon.com.