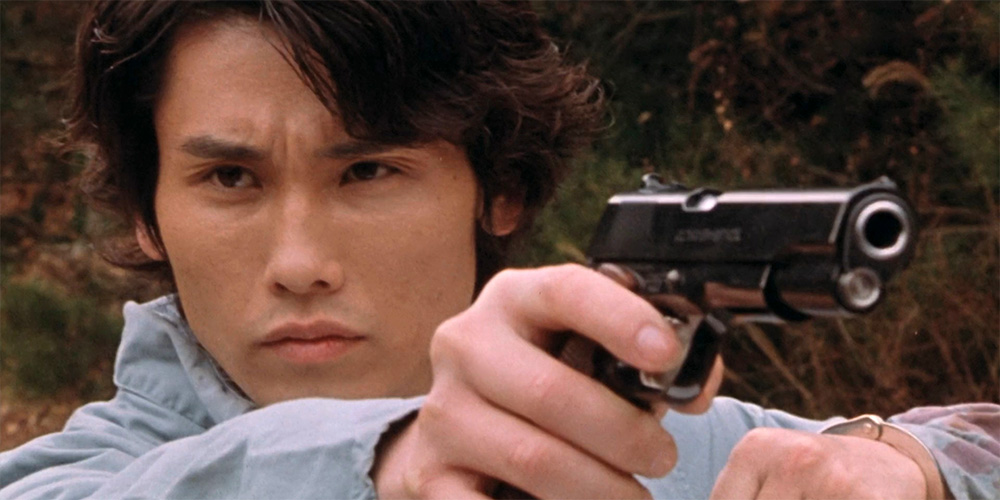 Blu-ray release: 'Versus'
Arrow Video are bringing the 2000 Japanese zombie action movie 'Versus' (ヴァーサス) to UK and US Blu-ray on December 7, 2020.
Directed by Ryuhei Kitamura, the film follows an escaped convict as he battles against a horde of zombies and their sinister leader who is attempting to open a portal of darkness. The cast includes Tak Sakaguchi, Hideo Sakaki, Chieko Misaka, Kenji Matsuda, and Yuichiro Arai.
Synopsis: A mysterious face-off in a wooded clearing between two escaped convicts and a carload of sharply dressed yakuza holding a beautiful woman captive ends in hails of bullets and showers of blood. The location for this violent encounter is the mythic Forest of Resurrection, the site of the 444th portal of the 666 hidden gates that link this earthly domain to the netherworld – and it didn't get this name for nothing. As one of the surviving prisoners escapes with the girl into the darkness of the forest, disgruntled gangsters soon become the least of their worries as an earlier battle between a lone warrior against hordes of zombie samurai is carried over from a millennium ago into the present day…
Features:
• Brand new 2K restoration from original film elements
• High Definition (1080p) presentations of both the original and ultimate cuts
• Reversible sleeve featuring artwork by Chris Malbon
• Japanese 5.1 and 2.0 stereo audio/English 2.0 stereo audio (original cut)
• Japanese 6.1 and 2.0 stereo audio/English 6.1 and 2.0 stereo audio (ultimate cut)
• Optional English subtitles
• Audio commentary by Kitamura, cast and crew
• Visual essay on Ryuhei Kitamura by Jasper Sharp
• Behind Versus, a two-part behind-the-scenes documentary
• First Contact: Versus Evolution featurette
• Tak Sakaguchi's One-Man Journey featurette
• Film festival screening footage
• Team Versus, a brief look inside the Napalm Films office
• Deep in the Woods featurette
• The Encounter, an interview with editor Shûichi Kakesu
• Deleted scenes with audio commentary by Kitamura, cast and crew
• Nervous and Nervous 2, two "side story" mini-movies
• Featurette on the making of Nervous 2
• Versus FF Version, a condensed, 20-minute recut of the film
• Sakigake! Otoko versus Juku, a featurette on the newly shot material for Ultimate Versus
• Multiple trailers
• Image gallery
• Illustrated collector's booklet [First press only]
• Region: A (US) / B (UK)
'Versus' will be available for pre-order shortly from Amazon.com and Amazon.co.uk.