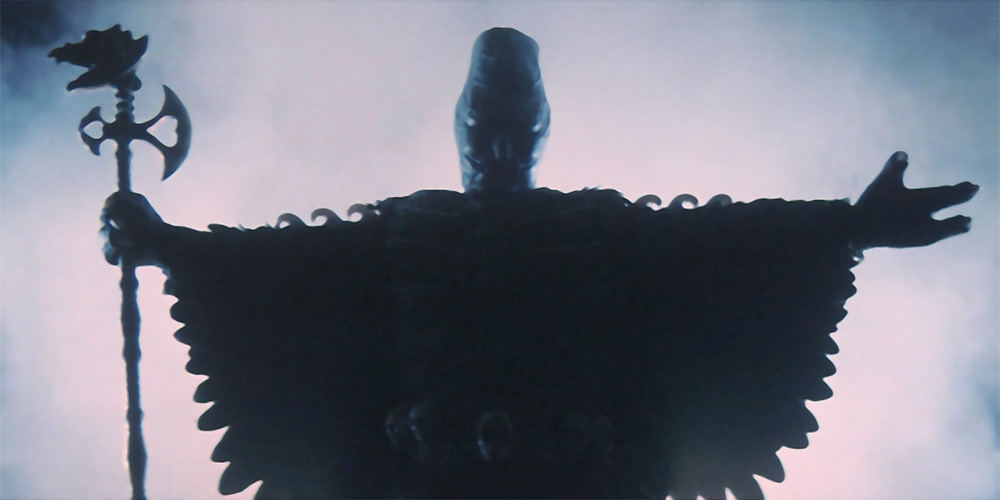 Blu-ray release: 'Yokai Monsters Collection'
---
Arrow Video are bringing a collection of the Japanese fantasy horror 'Yokai Monsters' (妖怪シリーズ) movies to UK Blu-ray on October 18, 2021.
Hailing from the makers of 'Daimajin', the first three films are ripped from the pages of Japanese folklore, with ghosts and monsters from ancient myths and legends brought to life through stunning special effects. The final film in the set is Takashi Miike's 2005 big-budget reboot of the series, 'The Great Yokai War'.
Synopsis: In the first film in the trilogy, '100 Monsters', a greedy slumlord's attempts to forcefully evict his tenants invite the wrath of the titular spirits when a cleansing ritual is botched, with terrifying results. The second film, 'Spook Warfare', tells the tale of an evil Babylonian vampire inadvertently awoken by treasure hunters, and a brave samurai that teams with the yokai to defeat the bloodthirsty demon. The third and final film, 'Along with Ghosts' (released only 12 months after '100 Monsters'), the yokai are roused to defend a young girl on the run from deadly yakuza. In 'The Great Yokai War', a loose remake of 'Spook Warfare', a young boy is given a grave responsibility: to band together with a group of yokai to defend humanity against a vengeful and powerful demon that has sworn retribution against modern-day Japan.
Features:
• High Definition (1080p) Blu-ray presentations of all four films
• Optional English subtitles on all four films
• Illustrated 60-page collectors' book
• Reversible sleeves featuring original and new artwork by Jolyon Yates
• Postcards featuring new artwork by Jolyon Yates
• Foldout 'yokai guide' poster illustrated by Jolyon Yates
• Hiding in Plain Sight documentary
• Theatrical trailers
• US re-release trailers
• Image galleries
• 'The Great Yokai War' audio commentary by Tom Mes
• 'The Great Yokai War' archive interviews
• 'Short Drama of Yokai' shorts
• 'Another Story of Kawataro' shorts
• World Yokai Conference
• Promotional Events
• Documentary on Ryunosuki Kamiki and his experience making the film
'Yokai Monsters Collection' is available to pre-order now from Amazon.co.uk.