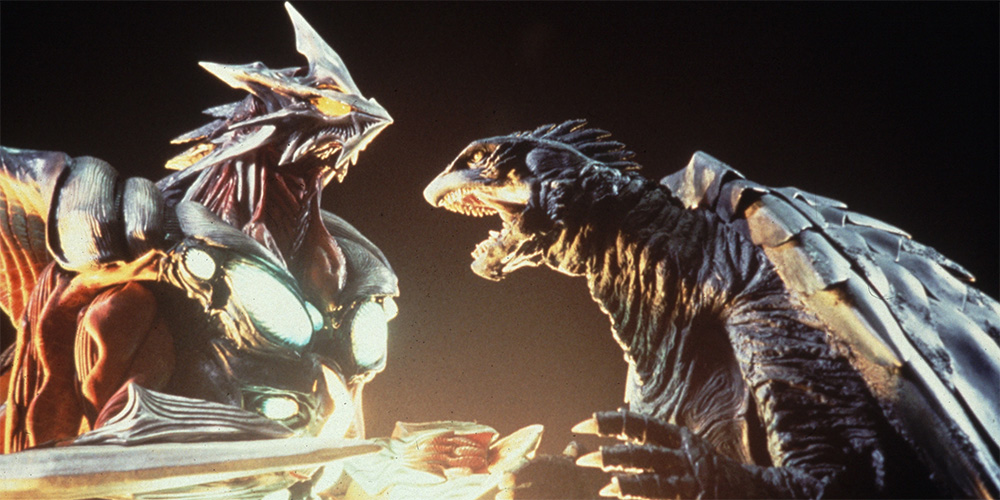 Blu-ray release: 'Gamera: The Complete Collection'
Arrow Video are bringing the complete collection of Gamera (ガメラ) films to UK Blu-ray on August 17 and to US Blu-ray on August 18. 2020.
For the first time ever worldwide, the set brings together all twelve tales of the adventures of the titanic terrapin (from 1965's 'Gamera, the Giant Monster' to 2006's 'Gamera The Brave') in one deluxe Blu-ray boxset. This limited edition collectors set traces the decades-long evolution of Gamera, from the friend of all children in his more light-hearted earlier films, to the Guardian of the Universe in the groundbreaking 1990s reboot series, often hailed as three of the best kaiju films ever made.
Films included:
• Gamera, the Giant Monster (1965)
• Gamera vs. Barugon (1966)
• Gamera vs. Gyaos (1967)
• Gamera vs. Viras (1968)
• Gamera vs. Guiron (1969)
• Gamera vs. Jiger (1970)
• Gamera vs. Zigra (1971)
• Gamera: Super Monster (1980)
• Gamera: Guardian of the Universe (1995)
• Gamera 2: Attack of Legion (1996)
• Gamera 3: Revenge of Iris (1999)
• Gamera the Brave (2006)
Features:
• Limited collectors edition packaging
• Fully-illustrated disc book containing eight Blu-ray discs
• High Definition (1080p) versions of all twelve films
• Lossless original Japanese audio and a complete collection of English dub tracks
• Hardback 130-page comic book
• Perfect-bound 80-page book
• Double-sided four-panel poster of Gamera's Map of Japan
• Collectors artcards for each film
• Commentaries
• Interviews
• Documentaries
• New featurettes
• Newly filmed introductions by August Ragone
• Trailers and image galleries
• Region Code: 0
'Gamera: The Complete Collection' is available for pre-order now from Amazon.co.uk and Amazon.com.