Ryuhei Kitamura's big screen version of the popular manga Azumi was a big hit, cementing Kitamura's status after low budget hit 'Versus' and was a fun, stylish fusion of Samurai action and comic book styling. 'Gamera' and 'Godzilla' director Shusuke Kaneko steps into the director's chair for the sequel, Azumi 2: Death or Love and delivers much of the same: a sense of fun, lots of action and cool comic book style.
'Azumi 2' picks up pretty much where the original left with Azumi (Ueto) and her only surviving colleague Nagara (Ishigaki) still on their mission to cleanse Tokugawa Japan from the evil warlords who hold it in their grip. They are recruited by an old Lord who sends them on a mission to assassinate Masayki Sanada (Toshiya Nagasawa): a high ranking warlord who is causing much disruption and destruction across the lands. But their mission is anything but smooth, as they are hunted by a team of hi-tech assassins and must fight within their own ranks when a new member joins and sets to poison their friendship and stop them from completing their mission.
'Azumi 2' is a fun, visually pleasing slice of Japanese comic book action. Stuffed to the gills with quality action and numerous fight scenes, 'Azumi 2' delivers inventive, crowd pleasing action entertainment. Those expecting intricate political intrigue and deep character dissection will no doubt be unsatisfied but 'Azumi 2' really isn't that kind of Samurai film. Based on Yu Koyama's successful manga, 'Azumi 2's twists and turns may be signposted a mile away and the character development kept to a minimum but that never stops it from being well made entertainment. 'Azumi 2' proudly wears its "let's have some fun" credentials on it's sleeve and Kaneko keeps the movie moving fast, crams it with inventiveness and makes sure we are rarely 5 or so minutes away from the next fight scene. The action is thick and fast and always creative with the standout sequence being an assassin that uses a giant double boomerang blade that he throws to slice people in half. Kaneko stages some visually pleasing action, setting fights in a desert like landscape and a forest where our heroine gets trapped in a spider web of poison laden wires.
The team of assassins sent to kill Azumi and Nagara are a cool bunch including the aforementioned blade wielding bad guy, a dude dressed  as a bear ('Versus' and 'Death Trance' star, Tak Sakaguchi) and a cold hearted love interest for Nagara ('Battle Royale' and 'Kill Bill's Chiaki Kuriyama). Cute as button Ueto reprises her role as the title character from the original 'Azumi' and for such a small thing proves surprisingly adept at slaying bad guys with a samurai sword.
On the negative, there is a distracting and somewhat pointless subplot about another band of rebel Samurai's helping Azumi, one of whom looks just like her love from Part 1. This sub plot doesn't really go anywhere and kind of drags in between the scenes of fighting and scheming assassins. While the fights are often impressive and creative they are occasionally marred by some terrible CGI, obviously used to give the fighters that heightened comic book feel. And as mentioned, the story is nothing new in terms of narrative and events are predictable way before they happen.
Still, 'Azumi 2' is a worthy follow up to Kitamura's stylish original and certainly packs a punch in the Samurai action department. Comic book movies have their place in cinema and the Azumi flicks are quality Japanese editions. Roll on 'Azumi 3'.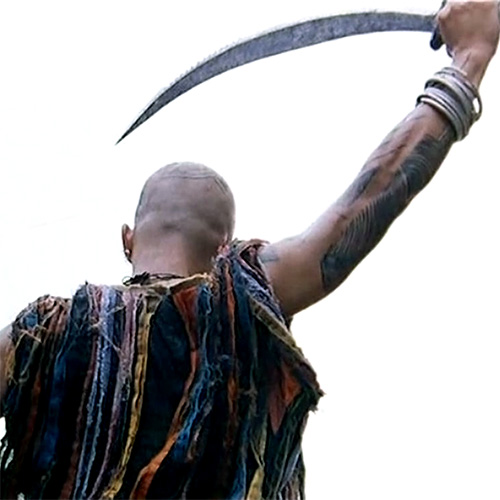 Latest posts by Andrew Skeates
(see all)