When the boss of a ruling Hong Kong triad is arrested and executed in China for counterfeiting money, the mob's leading contenders start to circle his empty throne. But which of them will prove victorious? Will it be tough guy Funky (Simon Yam)? The boss's daughter Audrey (Bernice Liu)? The strange mute Dumby (Jiang Lu-Xia)? The quiet achiever Calf (Andy On)? Or the power hungry senior officers Hung (Ken Lo), Kong (Xiong Xin-Xin) and Zen (Chan Wai-Man)? The body count mounts as one-by-one they fall victim to mysterious murders, until only one will remain standing to seize power.
If the action-packed promos led you believe that 'Bad Blood' would an exciting foray into the dark world of the triads, then I'm afraid you were sorely mistaken. After all, this is a Dennis Law movie so the alarm bells really should have started ringing fairly early on. In case you aren't already aware of his work, Law is a self-financing filmmaker who has a very distorted view on what passes for quality cinema. Unfortunately, he rarely seems to learn from his mistakes and 'Bad Blood' is just another example of his atrocious approach to movie making. All of signs are there – the sorry excuse for a story, horrific (and often sexist) dialogue, and a total waste of all the fine actors on display. In short, 'Bad Blood' is total trash and barely makes sense, let alone entertains.
Having said all that though, there is still one very obvious reason to watch this movie – the action. Choreographed by regular Wu Jing cohort Nicky Li Chung-Chi, the film exhibits some truly top notch combat that is very fast and brutal. The standout performers are definitely Jiang Lu Xia and Andy On, who pull some extremely acrobatic efforts out of the bag and get the longest screentime during the battles. My only complaint (yes, I always have one) is the interference of Dennis Law, who inexplicably decides to kill off a lot of the best fighters in the tamest of manners. This means that we don't really have many people left for the finale and the film ends with one of his so-called moments of "drama" rather than letting Li Chung-Chi give us a climactic bang.
If you remove the Blood part, then I'd say 'Bad Blood' really does live up to its name. At times, the film will have you slipping into a catatonic state and you'll just be praying for the next bit of action to come along. If you use that fast forward button though, it could actually prove to be a pleasant surprise.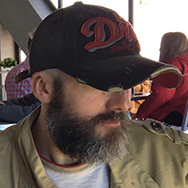 Latest posts by Phil Mills
(see all)