Luo Guanzhong's historical epic 'Romance of the Three Kingdoms' continues to provide the basis for grandscale and sumptuous Chinese blockbusters featuring some of the countries biggest stars. With the likes of 'Three Kingdoms' and 'Red Cliff' already taking impressive stabs at transporting the literature to the big screen, 'The Lost Bladesman' sees 'Infernal Affairs' and 'Overheard' filmmakers Felix Chong and Alan Mak taking their shot at it with the help of Hong Kong superstar and martial arts maestro Donnie Yen. Yen has spent the last good part of a decade appearing in one period martial arts actioner after another and while this doesn't quite match the likes of 'Ip Man 2' or 'Bodyguards and Assassins' in greatness, 'The Lost Bladesman' is still an impressive epic.
The films tells the tale of heroic fighter Guan Yun Chang (Yen) who despite being the loyal ally of warlord Liu Bei finds himself fighting for Bei's sworn enemy Cao Cao  (Wen). Taken prisoner by Cao Cao, Guan agrees to fight for him, earning him a higher rank within Cao Cao's army and allowing him the freedom to escort Bei's held captive concubine Qi Lan (Sun) back to her master. But their journey is fraught with danger with assassins and opposing generals attempting to slay Guan at every given opportunity.
This is a good looking, very well made and once it kicks in, action packed epic. Eschewing any flashiness for a more old school and care given to character and pacing approach, Chong and Mak craft a beautifully shot (with, thankfully, little reliance on CGI enhancement) and finely acted period piece. Yen continues to improve as an actor, quietly restrained as the deep thinking and respectful Guan. Sure, we are all here to see Yen unleash his impressive combat skills (which he does) but with the likes of this and the 'Ip Man' movies (and even flicks like the underrated '14 Blades'), Yen is also proving he's got more to offer. Backing up Yen in the acting department is the awesome Jiang Wen ('The Missing Gun') as Cao Cao. Proving to be a friend and enemy to Guan, Cao Cao is a refreshing antagonist in that he is never reduced to a pantomime type villain and shows respect towards Guan even when they are opposing one another. Jiang gives an impressive performance imbuing Cao Cao with personality and humanity.
As mentioned the photography is of a sumptuous standard and over-editing mercifully never rears its ugly head meaning both scenes of character and action are allowed to play out to full effect. Yen, once again serving as action director alongside Hua Yan, crafts some incredible set pieces. Those looking for hand-to-hand/bootwork scraps ala 'Ip Man 1 & 2' may be disappointed as the fight scenes are very much weapons based. Which is no bad thing as this gives a different look and flavour to the action. Apart from the mass battle near the beginning of the film, the action mainly features Yen going one-on-one against a variety of opponents utilizing spears, swords, shields and even a bow and arrow at one point. The action is well placed within the narrative the first half of the film building to it so we are invested in the characters before the violence erupts. The action scenes are also refreshingly sustained and well choreographed meaning they are never rushed and we can see what is going on. There is the impressive extended battle between Yen and hordes of soldiers brandishing swords and shields but the highlight has to be the horse chase cum spear fight between Yen and Andy On ('True Legend') which takes place in a narrow alleyway and brilliantly uses the weapon and tight choreography for maximum fight impact.
On the downside, the ending may be somewhat anti-climactic the brief skirmish not matching the action that has come before. It takes a while for Yen to kick into action gear so those itching to see him fight may be a little frustrated and with the (seemingly) never-ending release of one Chinese period action epic after another these days, 'The Lost Bladesman' may seem like epic martial arts fatigue for some.
But on it's own terms this a fine looking and well executed kung fu epic that delivers all the finely realized Donnie Yen action you could want along with an engaging story and some impressive filmmaking and production values.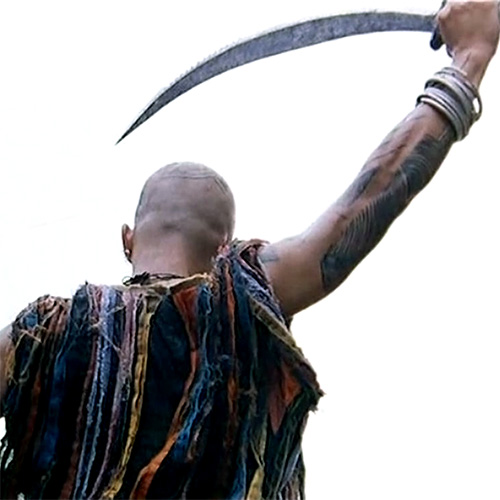 Latest posts by Andrew Skeates
(see all)