Did you hear about the Welshman who travelled to South East Asia, rejuvenated Indonesia action cinema, brought the martial art of Silat to international audiences and went on to make one of the most hotly anticipated films of 2012?
Gareth Evans, having given us the rather impressive 'Merantau' and proved that the region's genre prospects do not begin and end with Tony Jaa, is about to unleash 'The Raid' on audiences around the world – advance word from festival screenings is that this could be something very, very special.
Gareth Evans talks to Far East Films about his experiences making 'Merantau', 'The Raid' and future projects in what is a fascinating insight into the creative process. Enjoy.
Far East Films: First of all Gareth, let's talk about 'Merantau'. I watched the trailer for 'Merantau' – the teaser trailer when it first came out – and I was thinking, 'Indonesian Ong Bak', I can see where this is going. But what amazed me about the film when I watched it was noticeably different from the Tony Jaa films, there was a real sense of crafting a story. Is that something you intended to set it apart from the crowd?
Gareth Evans: Well I think when it came to 'Merantau', one of the things we kind of wanted to do was to introduce elements of Indonesian culture and tradition, and also the martial art of Silat, but to do this in a way that didn't feel like I was a foreign film-maker working in another country. I wanted everything to feel genuine like it was actually from the country itself, no postcard images of landscapes or famous landmarks which say where the film takes place. I wanted it to show the people rather than just where it was set. I don't think it was a conscious decision to go too far with the drama – I did a documentary first about Silat and when it came to 'Merantau' it felt like it needed that extra element of drama to it, a way of getting to the action scenes without it feeling forced. I don't know what cut of the film you saw…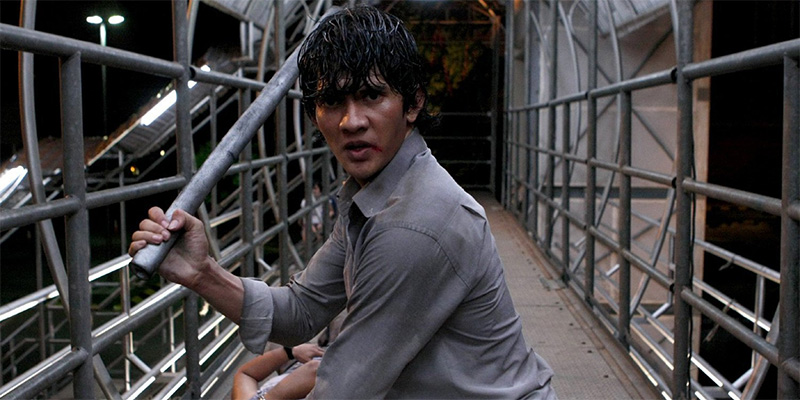 FEF: The international cut…
GE: Well the Indonesian cut is twenty-five minutes longer. It sets the stall out with more elements of drama, almost 60% drama to 40% fights…
FEF: So there's a lot more at the beginning with the family?
GE: Yes there was more there and also a lot more on the philosophy of Silat. You have a scene where the kid wants to learn Silat and Yuda (the film's hero) refuses to teach him because he feels like he's going to use it for wrong. And then we had an extra fight scene where we set up the character of Eric, the guy Yuda fights in the lift, we get to see what he's capable of. I really regret having to cut that scene for the international version, but to keep that would've meant eight or nine extra minutes of drama before that so it became easier to make the decision. The difference between the two versions is that the International Version is much more focused on Yuda as the hero of the film whereas the Indonesian Version is more of an ensemble piece, we could play around with more characters and how to interweave the story around them.
FEF: What really impressed me was that even the international print had that feeling though, the villains weren't just cardboard cut-outs and they had some depth to them…
GE: I've grown up watching martial arts films and the one thing I always find is that, not for all of them but a lot of them, when I watch them again having seen them once or twice before, I find myself hitting the next chapter button just to get to the action scenes. With 'Merantau', I didn't want it to be like that – if you wanted to watch the whole film, you could watch it the same way as any other film. Just because it was a martial arts film I didn't want people to skip straight to the 'good stuff' so I tried to have more emphasis on story and see how people responded to that. One of the things I've always been interested in is mixing genres together, putting things in a martial arts film that it might not usually have. That's why we tried to give the villains a little bit extra breathing space, show their relationship to each other.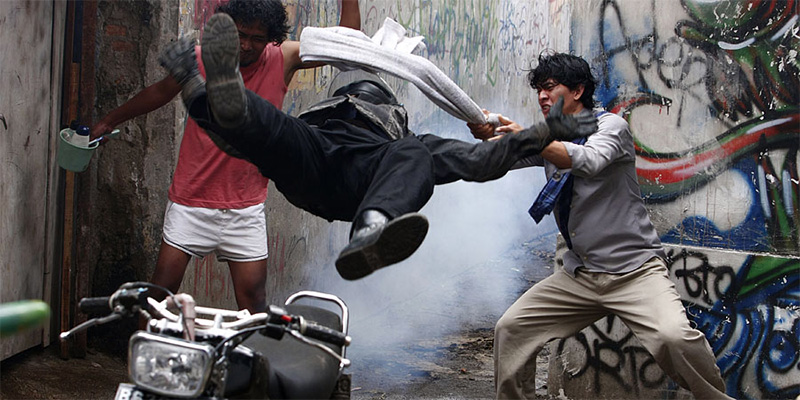 FEF: Yeah that really came across. I was impressed by Mads, Mads Koudal…
GE: Ah yeah…
FEF: He was very, very good because one thing you tend to get in some martial arts films is a villain who's an afterthought and the person that plays them tends to overact – Mads was quite understated, there was a bit more to this character as well.
GE: I'd worked with Mads on my first feature in the UK…
FEF: 'Footsteps' wasn't it?
GE: Yeah that's it, 'Footsteps'. And I knew when I was writing the script for 'Merantau' that I wanted these two white guy villains, but I didn't want them to be the usual white guy villains you get in Asian movies. I knew Mads, I knew his range and what he could do. When I was writing the dialogue for him it was easy as I already had his speech patterns in mind. It was good fun to be able to rely on him to up the ante a little bit and not just be the usual cigar-smoking bad guy in a suit…
FEF: The usual Gweilo…
GE: Yeah exactly.
FEF: And that was a good thing about it, it wasn't just filler when he was talking to his brother, it added something. It made him, not quite sympathetic, but his moments of dialogue were interesting.
GE: Yeah we kind of like played around with it a bit, gave the brothers a back story, how they'd grown up in this world of violence. One thing we were interested in doing was to have different layers of bad guys. In a way the Eric character is a bad guy, but there are shades of good in him, then there's the pimp who is definitely a bad guy, but when you see him with the brothers, Ratger and Luc, he becomes more of a subservient character, almost useless. So there's all these different layers of powerplay and strength and who's really in charge of who.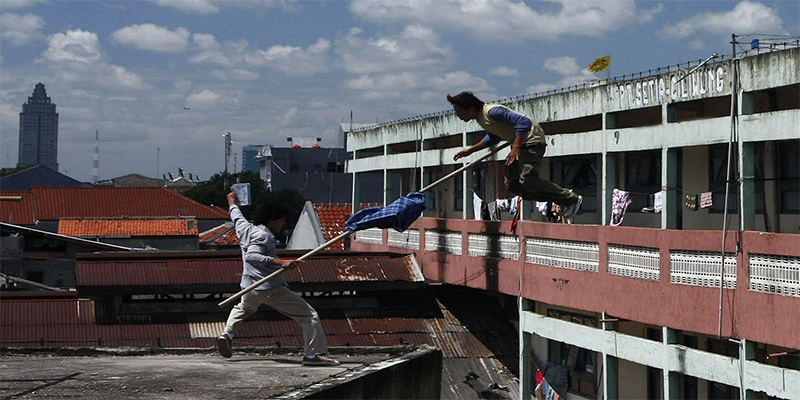 FEF: That definitely came across because something that stood out was when Eric comes back near the end after being introduced early in the film. And the actor you got to play Eric is so unassuming in many ways that you're unsure what you're going to get at the end…
GE: Yeah, sure.
FEF: There's extra emotion because Eric is torn, he doesn't want to be in that situation…
GE: Exactly and what really helped us was that Yayan Ruhian, the guy who played that role, is obviously a much smaller person, his stature is a lot shorter and he doesn't dwarf Iko Uwais so you're not sure which way it'll go. If you get the chance to see the full version, the fight that Yayan has to set up his character, that was a big play on his stature. We put him up against this much bigger guy, much more intimidating guy and we decided to do this 360 tracking shot that circles around and you just see Yayan beat the shit out of this guy; he manages to put in ten different blows to his opponents body. It was good to have him against different kinds of opponents and styles.
FEF: That came across very well. How did you meet Iko?
GE: I was working on a documentary on Silat and that was my first introduction to the martial art. In the documentary I was following five different masters from five different areas throughout Indonesia. Iko was the student of one of the masters in Jakarta and while we were filming and doing research we got to film one of the practice sessions. And that's the thing with Iko – when you first meet him he's so unassuming, a humble and shy kind of guy, then when he puts on the uniform and you see how he does these Silat movements, how he expresses himself. You kind of get drawn into it and you could see there was something about him that would translate into a film. I nudged my wife – who's also my production manager – and said we needed to do something else with Iko. So after the documentary was finished I spoke to him and said that we would love to come back and make a film with Iko in it. At the time, Iko was a driver for a phone company – delivering messages and documentation back and forth – and he kind of nodded like 'yeah, yeah, yeah', not believing a word I was saying, but then when we came back out there we said 'When does your contract end with the phone company?', he said 'Next month' and so we could then say 'From next month, you work for us now!'. We set the whole film up after that, centring around him, setting him up as the next Indonesian action star. There hadn't been one for about fifteen years and there hadn't been any martial arts films made in Indonesia for such a long time, not since the Barry Prima days of the 70s…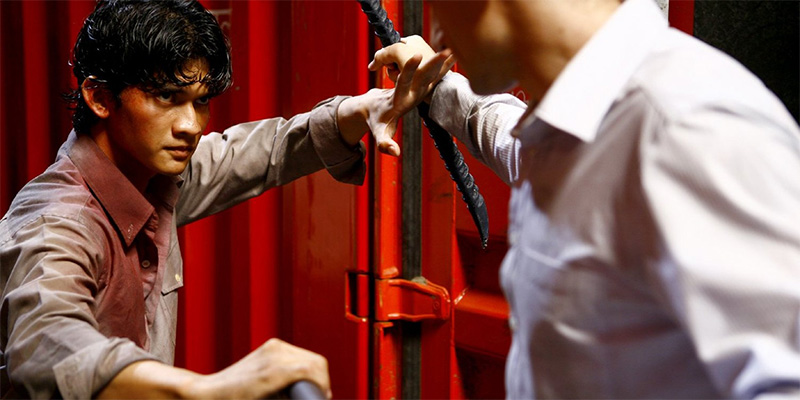 FEF: Ah, Barry Prima!
GE: So there were big shoes to fill, but that hadn't been filled in such a long time. We thought that now seemed a good time to try and launch Iko and try to push Silat in international audiences mind as kind of a new martial art.
FEF: Were you surprised at how easily he transferred to being a leading man in a film? There wasn't any immaturity about him and he seemed to have the ability to project real empathy…
GE: Yeah we got really lucky with Iko. When you first meet people you kind of see that they can either act or not. If there's a little bit of talent for it there, you know that that can be expanded on. We prepared him – we sent him off for drama coaching/training for about three months, try and get him through any nerves etc. We adjusted things in the filming schedule so that he could start with things he'd be more comfortable with; for the first few days we started we fight sequences so he'd be in his element for the start, but he'd also see how much time it all takes on a film, how boring it can be! We also surrounded him with experienced performers – the actress who plays his mother and the actor who plays his brother are well known in Indonesia. She (Christine Hakim) is kind of considered the Audrey Hepburn of Indonesia, she's super famous! Such strong talent around him helped a lot. We were really happy with Iko. And Yayan who plays Eric as well – he was one of our choreographers who came in last minute to take the role. About a month before the shoot we thought we'd use him in the film and he's a very natural performer. Both Iko and Yayan have just finished 'The Raid' and both have been able to try different things – Yayan has grown as a performer immensely since 'Merantau'.
FEF: One of the things I thought it had over 'Ong Bak' – and that's, I suppose, a film it'll be compared to as an example of South East Asian martial arts films of the 21st century – was that there wasn't any awkward 'comedy' thrown in, less filler overall…
GE: Yeah I think that comes from being British, watching those old martial arts films and having to skip the slapstick comedy that was always thrown in, but usually destroyed the mood of the film. I'd sometimes be loving all of the action scenes, but forwarding through all of the comedy so it was something I was conscious of when I wanted to make a movie. I'm also not sure about making comedy; I'm confident I can make audiences react to the action in my films, but when it comes to comedy it's a much more nerve-wracking thing. I'd hate to be at the premier of a comedy film and not hear a single laugh! But I do like moments of black comedy and that's what I tried to put in there – like the towel-flick in 'Merantau' when the guy turns around and realises he's just knocked someone off their bike.
You can hear more from Gareth in part two of our interview, available here.