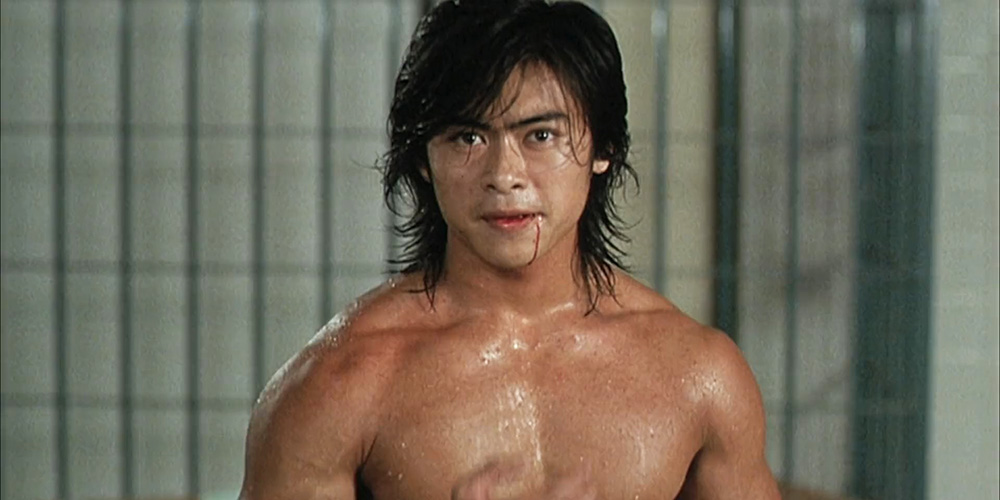 Blu-ray release: 'Riki-Oh: The Story Of Ricky'
---
88 Films are bringing the 1992 Hong Kong action thriller 'Riki-Oh: The Story Of Ricky' (力王) to UK deluxe collector's Blu-ray on September 27, 2021.
Directed by Lam Nai-Choi and based on a manga by Tetsuya Saruwatari, the story follows a young man with superhuman strength who is incarcerated in a prison run by corrupt officials. The cast includes Fan Siu-Wong, Fan Mei-Sheng, William Ho Ka-Kui, Yukari Oshima, Tetsuro Tamba, Gloria Yip, and Frankie Chan Chi-Leung.
Synopsis: Set in the year 2001, where all correctional facilities have been privatised, martial artist Ricky finds himself victim to the corrupt system when he is found guilty of the manslaughter of an infamous crime boss. Once in jail he must fight for his own survival when he is thrown into a world of enemies vying for his blood.
Features:
• Rigid Slipcase with new artwork by Kung Fu Bob
• Replica lobby artcards
• Double-Sided Foldout Poster
• 40-Page Perfect-bound Booklet
• 2.0 Cantonese LPCM Mono (Theatrical Mix)
• 2.0 Cantonese LPCM Mono (Home Video Mix)
• Remastered English Subtitles
• 2.0 English LPCM Mono
• 5.1 English DTS-HD Master Audio
• Audio Commentary with Kim Newman and Sean Hogan
• Audio Commentary with Mike Leeder and Arne Venema
• Audio Commentary with Frank Djeng
• Audio Commentary with Audi Sorlie and Chris Ling
• Interview with Fan Sui-wong
• Hong Kong Trailer
• English Trailer
• Reversible sleeve with original poster artwork
'Riki-Oh: The Story Of Ricky' is available to pre-order now from Amazon.co.uk.