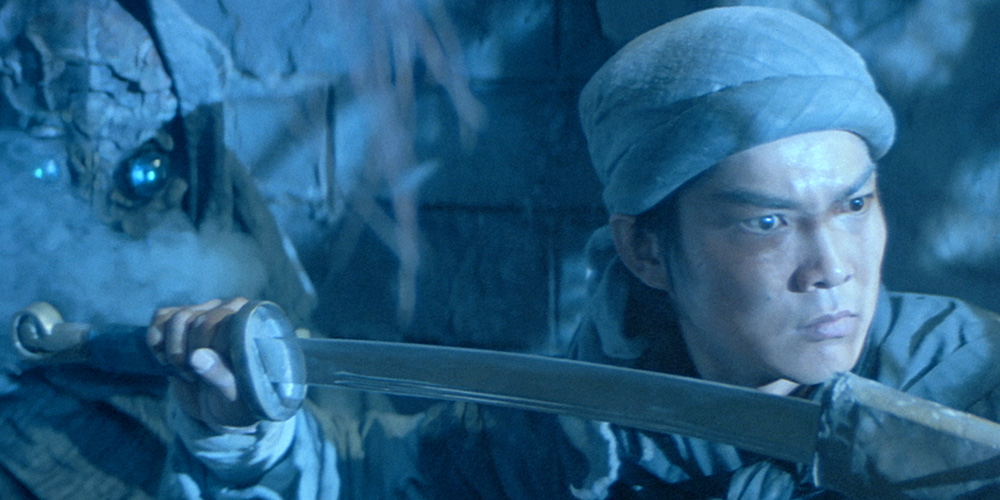 Blu-ray release: 'Zu: Warriors From The Magic Mountain'
---
Eureka Entertainment are bringing the 1983 Hong Kong supernatural wuxia fantasy 'Zu: Warriors From The Magic Mountain' (新蜀山劍俠) to UK Blu-ray on April 20, 2020.
Directed by Tsui Hark, the film follows a young soldier caught up in an ancient civil war who finds himself drawn into a fantastical quest to save the universe. The cast includes Yuen Biao, Sammo Hung, Adam Cheng, Brigitte Lin, Moon Lee, Mang Hoi, and Norman Chui.
Synopsis: Young soldier Dik Ming-kei (Biao) gets caught in a war between two rival armies during the Tang Dynasty. Taking sanctuary in a cave within the ominous Zu Mountain, he becomes entangled in a battle with supernatural forces beyond his comprehension.
Special Features:
• Limited Edition O-Card [2000 units]
• Collector's booklet [2000 units]
• 1080p presentation from a brand new 2K restoration
• Cantonese and English soundtrack options, original monaural presentations
• Newly translated English subtitles
• New and exclusive feature length audio commentary by Tony Rayns
• New and exclusive interview with Tsui Hark
• Zu: Time Warrior [93 mins] – the export cut of the film produced for European theatres
• Tsui Hark episode of Son of the Incredibly Strange Film Show
• Alternate opening credits
• Archival Interview with Yuen Biao [12 mins]
• Archival Interview with Mang Hoi [20 mins]
• Archival interview with Moon Lee [20 mins]
• Deleted Scenes
• Trailers
• Region: B
'Zu: Warriors From The Magic Mountain' is available for pre-order now from Amazon.co.uk.