Billed as Takashi Miike's 100th film at the time of release (he has made about a hundred more films, and TV shows since!), 'Blade of the Immortal' sees the enfant terrible deliver one of his best films of recent: both violently excessive and beautifully crafted.
Manji (Kimura) is a samurai doomed to wander the earth for eternity after an encounter with a mystic renders him immortal: his body coursing with bloodworms which keep him alive and repair any injuries/severed limbs!! Mourning the death of his sister who he could not protect from some vicious bounty hunters, Manji leads a solitary existence, one which is soon shattered when youngster Rin (Sugisaki) comes careening into his live. Bearing more than a passing resemblance to his dead sister, she wants to enlist Manji's skills to take vengeance on the vicious Ittō-ryū clan who slayed her family. Said clan is led by the merciless Anotsu (Fukushi) who is on a mission to wipe out all martial arts schools so the Ittō-ryū is the only one left to rule supreme. Manji, seeing a chance to save Rin in a way he could not save his sister, agrees to train her so she can take revenge. But the Ittō-ryū get wind of this plan and retaliate full force.
Based on the manga series by Hiroaki Samura, 'Blade of the Immortal' is glorious pulp samurai action, soaked in bloody bladed violence. Rooted firmly in comic book territory with a hero who can't die (ala 'Highlander'!) and who can slaughter a hundred opponents single-handily but classed up with slick Edo era production values and fantastic cinematography, 'Blade of the Immortal' finds Miike at his most classy and bloody. With a 'Lone Wolf & Cub' style set up, the film (once Manji and Rin team up) becomes an onslaught of confrontations and samurai action as Anotsu's fighters are sent one after the other to slay the would-be heroes. The action is tightly choreographed, blade sharp and full of verve and blood. Never hurried or over stylised, the action stays the right side of OTT so the sharp bloody impact is felt, the film opening and closing with two epic battles where a few take on hundreds in epic sword slaying action.
In amongst the carnage, is the central duo of Manji and Rin, who while not always warm and likeable do give heart to proceedings and share good chemistry. It is also refreshing to see that Manji isn't necessarily the best fighter/untouchable hero, getting through his battles mainly by sheer determination and his fortunate immortality. Despite buckets of samurai action, the film is by no means rushed, exuding Miike's recognisably languid pace meaning proceedings do sometimes meander and get a little scrappy on occasion.
Not quite reaching the kinetic heights of his samurai masterpiece, '13 Assassins', 'Blade of the Immortal' is nevertheless a great slice and dice sword flick, up there with the best of Miike and if you can let yourself go with it, a heap of blood soaked, limb severed fun.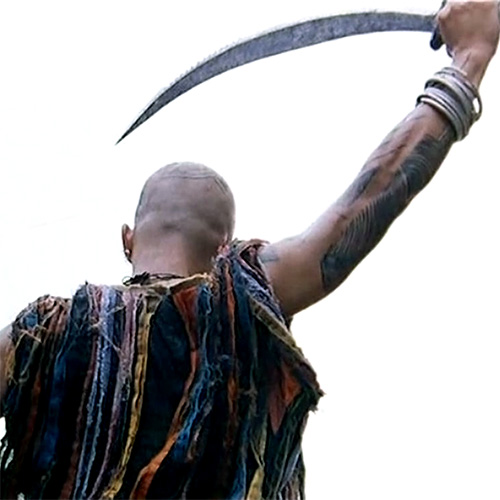 Latest posts by Andrew Skeates
(see all)