Michael Jai White is finally getting the recognition he deserves. As good at martial arts as he is at acting, he has been cutting his way through the action genre, both in the East and the West, often in supporting roles and quite often stealing the movies he is in. Having stumbled in the 90s with awful comic book adap 'Spawn', Jai White has since gone on to fight Van Damme in 'Universal Soldier 2', Seagal in 'Exit Wounds', have his fight scene cut from 'Kill Bill Vol. 2', headed to Hong Kong to star in Michelle Yeoh vehicle 'Silverhawk', TV series 'The Legend of Bruce Lee' and even popped up in one of the best blockbusters of recent years, 'The Dark Knight'. He's also been taking the lead in some pretty awesome low budget fights films. First there was Isaac Florentine's excellent 'Undisputed 2' and now comes 'Blood and Bone', a glorious nod to the fight films that saturated video stores in the 1990s and a wicked martial arts film in its own right.
'Blood and Bone' maybe be relatively straightforward in its set up: a quietly confident drifter, recently released from prison, integrates himself into the world of underground fighting (making short work of the competition) all the while searching for someone and looking to settle a score and fulfil a promise. It's a plot device seen a hundred times before but is given a fresh overhaul thanks to a satisfying balance between character and action, a commitment to keep proceedings old school in style and execution and delivering crisp, exhilarating action. Michael Jai White carries the picture. He may be a little too quiet and seemingly invincible at times but this adds to the mysteriousness and ruthlessness of his character: he cuts through the underground fight scene with stealth and precision, a mysterious fighter. He takes on a series of combatants, many real life fighters including Bob Sapp, Kimbo Slice, Gina Carano and Matt Mullins, systematically taking down the corrupt and wealthy life of bad guy James (Eamonn Walker). Walker oozes venom, making for a suitably boo-hiss villain, who gets his just deserts ten fold come the finale.
Director Ben Ramsey, the writer of Kirk Wong's quirky, cult action flick 'The Big Hit' and, ahem, 'Dragonball: Evolution', wisely keeps things simple focusing on creating character and lots of kick ass action. Character interaction and development is given a little more focus and time than you're usual fight flick, certainly not overly complex but fitting for the story being told and Ramsey puts a few nice touches in here and there (James murdering while singing along to a Wang Chung song, Dante Bascos's hyperactive but quite endearing sidekick, James' want to be part of the higher criminal class). However, 'Blood and Bone' still delivers a certain fight formula: we are never in doubt of who the good guys are and who the bad guys are and there are regular bouts of tremendous fight action.
Utilizing a lot of real life fighters and with ace action guy JJ Perry ('Undisputed 2') onboard with the action team, the brawls in 'Blood and Bone' are brutally exhilarating. Short and sweet they may be, they are nevertheless shot and cut with style and energy and allow us to really appreciate the skill of the fighters. No hyper editing here, just world class fighters going toe-to-toe in choreographed perfection. Michael Jai White proves once again he is one of the best on screen fighters around at the moment not least in a wicked one take smackdown where he dispatches a surfeit of goons and the breathtaking final smackdown. Jai White goes one-on-one with Matt Mullins in an awesome display of martial arts, the two trading blows and kicks with crisp, choreographed skill.
American martial arts films have been delivering on the fight front comparable to their Eastern counterparts. In recent years, 'Undisputed 2', 'Contour' and 'Broken Path' have shown the Western martial arts films can hold their own in the action arena and 'Blood and Bone' can be added to this list. A straightforward martial arts film it may be but is all the better for it and features a great cast, blistering fight scenes and proves that sometimes old school is the best school.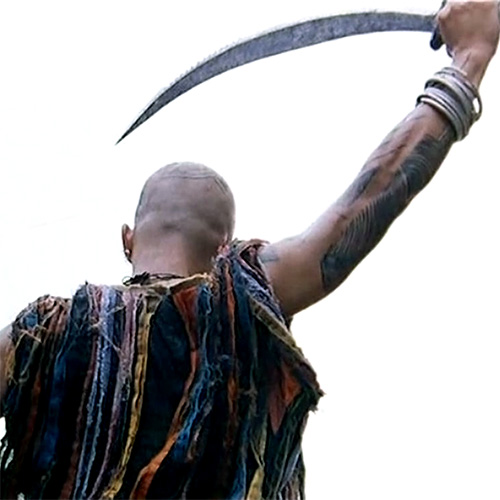 Latest posts by Andrew Skeates
(see all)