'Broken Path' is the simple story of Jack and Lisa, who have recently moved to their dream home in the country, away from the hassles of the city. Johnny Yong Bosch and Pamela Joy Walworth play this idealistic young couple, who want a simple and safe life to raise their daughter. Settling into the new surroundings and getting to know their neighbours, life looks on the up. Yet this is shattered when a group of camo-clad, mask wearing assailants storm the house and begin to attack and torment them. Confused, scared and, at first, struck down by these assailants, the young couple soon fight back. Jack begins to display some ferocious fighting skills in retaliation to his attackers, skills his wife was not aware of. Showing he is just as adept at martial arts and killing as the invaders, Lisa begins to question who her husband really is. Jack, meanwhile, is only concerned with surviving and getting his wife to safety. However, when several of the attackers suggest they knew Jack from a previous time and with one of them wishing to help them, Jack and Lisa's life and relationship is thrown into turmoil as identities are questioned and survival is threatened.
A couple starting a new life to escape the past may be a well worn story but 'Broken Path' utilizes it to tell an action packed and often gut wrenching tale of endurance. Koichi Sakamoto and his Alpha Stunts crew have created another outstanding action film on a (very) minuscule budget. The action and acting is top notch but it is the narrative's sheer momentum and the quest for survival that sells the story.
All the cast give committed performances, meaning that however much the action saturates the screen; we still care for the characters. Yong Bosch really shines here, leaving his 'Power Rangers' days behind and getting to act all grown up. His intensity increases, both emotionally and physically, as the film progresses, his character pushed ever further over the line as he attempts to protect himself and his family. Pamela Walworth as the put upon wife is just as good, holding her own despite a barrage of abuse from the invaders. Her and Bosch's chemistry is good, making you believe they are a real couple. A few familiar faces also pop up along the way. Matoko Nagino ('Wicked Game') features as one of the main attackers and as well as displaying her impressive combat moves, give a deliciously evil performance as the leader of the group of attackers. Daniel Southworth ('US Seals 2') also stars and, as always, gives a solid and convincing performance both in the acting and the martial arts. Bosch and Southworth really do shine here, obviously relishing their roles, and it would be good to see these two actors go on to star in some bigger fare.
Now the Alpha boys are known for delivering action and they don't let themselves down here. Once the action begins, it rarely lets up, only pausing for the characters (and the audience) to catch their breath and gather their bearings The film is practically a running battle between Bosch and the various attackers. As soon as his character thinks he has stopped the attackers or knocked them down for good, they are back for more, unrelenting in their onslaught of violence. 'Broken Path's main drive is the action, as the narrative is propelled by the number of fights. Some may consider the lack of exposition or down time between the fights unsatisfying, but this does not hamper 'Broken Path' in anyway. The film is all about momentum and it is refreshing to see an "action" film deliver what it sets out to be: a wild action ride. Bosch has always been an impressive on screen fighter and delivers the goods here. Southworth and Nagino also impress with their considerable skills. Alpha Stunts bring their trademark rough and tumble, Hong Kong martial arts style to every one of the fights scenes. The choreography is crisp, clean and mercifully not over-edited, giving the fights a satisfying bite. The main thrust of the action is martial arts, meaning car stunts and high falls aren't as thick on the ground as usual but this works in favour of the action, as it is based more on confrontation. Gore is also on supply here, a slightly different direction for the Alpha team, with several of the characters meeting some very nasty ends. It all works well; adding to the grittier edge the film is striving for.
If you have enjoyed Sakamoto's and the Alpha boy's previous efforts, and like your martial arts tough and full on, then 'Broken Path' is a definite recommendation. The whole team, including stars Bosch and Southworth, step up the game here, delivering a tale of survival that keeps up its frenetic charge right up to the closing credits. Short, sharp and to the point, 'Broken Path' is excellent entertainment from start to finish. Here's hoping it gains a release date soon.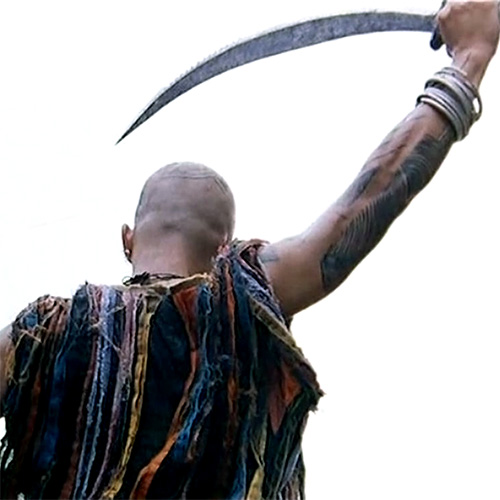 Latest posts by Andrew Skeates
(see all)