Although it may be something of an unknown entity to international audiences, 'Golgo 13' has been on the scene since 1969. Starting out as a manga, the concept revolves around a professional hitman for hire who could easily give the likes of James Bond a run for his money. Considering the success of the franchise, its no surprise that it has spawned both an anime series and several films, but this particular effort seems to be largely ignored. Having recently been impressed by the new anime, I decided to give the movie a try and find out exactly why no one was singing its praises.
When Golgo 13 (Chiba) is hired to kill a drugs kingpin in Hong Kong, it appears to be just another routine job. However, plans go awry when someone beats him to the mark and Golgo suddenly finds himself the target of a group of vicious killers as well as the Hong Kong police department. The investigation is led by Detective Smith (Ga Lun) who has been on the case of the kingpin for sometime and is furious when he is beaten to his bust. Now the race is on as Golgo must attempt to avoid the police and hunt down the people responsible. He can then complete his mission the only way he knows how – by killing the man at the top!
Going into 'Golgo 13: Assignment Kowloon', I half expected to see a camp 70s interpretation of a cult hero which capitalised on the success of Chiba to earn a quick buck. As it turns out though, I couldn't have been more wrong as this is not only a damn fine representation of the source material but also one of the best action films I have seen all year. Shot primarily on location in Hong Kong and Japan, the film does stutter at first (most notably with some poor editing) but it quickly finds its feet and maintains a very stylish atmosphere that just oozes coolness.  As the film progresses, the director also gains in confidence and begins to throw in some very adventurous camerawork that really adds to the tension, particularly during the assassination scenes. However, the shining light of the piece is clearly Sonny Chiba who has obviously done his homework before taking on the role. Despite a few cheesy facial expressions, he really does look the part and manages to capture the cold and calm exterior that really epitomises what Golgo is all about.
As for the action in 'Golgo 13', it is just as impressive as the rest of the film and I'd even go so far as to say it often exceeded my expectations. We all know Chiba is a competent fighter but realistic action wasn't very high on the agenda during the 1970's chop socky trend. For this movie though, they really do a good job of keeping the combat grounded and limit Chiba to using clean and clinical moves that maintain the professional edge of his character. The shootouts are similarly themed and it's refreshing to remember a time when heroes and villains shot at each other without the use of slow motion every few seconds. As if this wasn't enough, the stuntwork is also top notch with no laughable use of doubles as all of the actors appear to do their own stunts. This works to great effect in one particular scene where Chiba rides atop a bus before grabbing a passing pole and swinging to safety, all in one single shot that shows his face.
'Golgo 13: Assignment Kowloon' seems to do so much right that it makes me wonder why this wasn't the start of a series of films. Perhaps the idea of an anti-hero was ahead of its time or maybe Chiba fans just didn't want to see him in this kind of a role, but whatever the reason it seems like a really missed opportunity. Oh well, I suppose I shouldn't complain as it's refreshing enough just to have one film that can be called a "successful" big screen adaptation.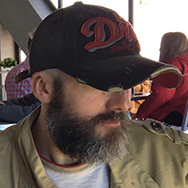 Latest posts by Phil Mills
(see all)