After they are called to a supposed peace meeting in an underground nuclear bunker, the Lost Ninja Clan find themselves framed for assassinating the host, Grandmaster Fumitaka (Cary-Hiroyuki Tagawa). Now they must attempt to battle their way out of the bunker, which just so happens to be filled with an unstoppable Ninja army, supernatural enemies, mutants, and flesh eating zombies. Trapped a thousand feet below the Earth's crust, will the Lost Clan ever make it out alive?
Going into a film with a title like 'Ninja Apocalypse', I'm sure most of you already have a rough idea of what to expect. You undoubtedly know that the movie is unlikely to be nominated for an Oscar anytime soon, and you'll surely be expecting to see both ninjas and an apocalypse. Thankfully, the film does deliver on all accounts. The apocalypse however, is really just a minor (and fairly unexplained) plot point that is all part of a cheesy mystical setup that is somewhat grating. Luckily though, this is over fairly quickly and the movie then lapses into a series of fight scenes that boast their fair share of ninja goodness. Admittedly it does border on cringeworthy at times thanks to the clichéd dialogue and a bit of ropey acting, but the appearances of seasoned veterans like Cary-Hiroyuki Tagawa and Ernie Reyes Jr. help to give the proceedings a touch more gravitas.
When it comes to the action, 'Ninja Apocalypse' certainly has plenty of it but the quality is a touch hit and miss. While I certainly wouldn't classify it as bad, the choreography on display is just a bit too plain for my tastes. Likely this is just because I've seen a fair few martial arts movies in my time, but I still felt that there was just far too much reliance on the basic hacking and slashing. However, where the movie really does deliver is when the combatants unleash their magical powers. Makers of video game movies like 'Mortal Kombat' or 'Street Fighter' should really take note, as 'Ninja Apocalypse' definitely knows how to implement special moves that all look surprisingly impressive considering the films obvious budget restrictions. My only real disappointment was that they are often relied on a little too much, particularly in the finale where I would have preferred to see Ernie Reyes Jr. getting to cut loose.
While it clearly still has a number of issues, 'Ninja Apocalypse' remains a fairly entertaining low-budget action romp that is worthy of at least one watch. If you're a fan of old-school American martial arts B-movies, then I'd definitely say this delivers on a lot of similar levels.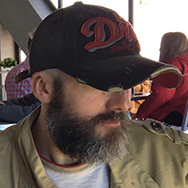 Latest posts by Phil Mills
(see all)