Although directing movies since 1961, Kinji Fukasaku would have to wait until 1973 for his breakout film 'Battles Without Honour and Humanity' (AKA 'The Yakuza Papers') to alert audiences to his filmmaking dynamism.
'Japan Organized Crime Boss' should have been the film to him wider plaudits, as it is better than 'Battles…' and all Fukasaku's trademarks are electrifyingly present and correct. Post-World War 2 critique, onscreen titles and voiceover narration, audacious widescreen compositions, love-hate depictions of yakuza and shocking eruptions of grisly violence are ingredients that make this a classic of Japanese crime cinema.
The plot is typically complex, involving the Danno organization's planned expansion of criminal influence from the south of Japan to include the more central Tokyo area. The Yokohama Hamanaka group agree to act as Danno muscle and a war erupts between them and the Tokyo Alliance. When the Hamanaka boss is slain, newly appointed head Tetsuo Tsukamoto severs ties with the Danno group to preserve his gang. To achieve total domination the Danno group sides with the Hokuryu gang, a ragtag band of outlaws who cut a bloody swathe through the slums of Yokohama.
Yet, in this rabid dog-devour-dog world Hokuryu boss Miyahara begins to realize mauling the hand that feeds him may be preferable to becoming a disregarded mongrel.
A commanding performance from Fukasaku regular Koji Tsuruta as Tetsuo Tskuamoto keeps 'Japan Organized Crime Boss' anchored. A dying breed of honourable gangster, he stoically absorbs humiliation and punishment (appropriately Tetsuo is Japanese for "iron man"). Fukasaku surrounds him with a capable supporting cast including Bunta Sagawara, who for the first half of the 1970s played De Niro to Fukasaku's Scorsese, and an attention grabbing turn from Tomisaburo Wakayama, best known as Itto from the Lone Wolf and Cub series and brother of Zatoichi star Shintaro Katsu, as Miyahara.
Fukasaku and co-writers Konami and Osada tell the story with the panache of grandmasters, using documentary style narration, newspaper headlines and onscreen editorials to keep the multi-character plot on track (onscreen titles were a device Fukasaku would employ throughout his career, including his last film 'Battle Royale').
As a director, Fukasaku borrowed the cheeky verve of the French New Wave, shooting fight scenes with shaky handheld cameras and liberally employing beloved freeze-frames. Production wise, 'Japan Organized Crime Boss' massive yakuza entourages that fawn over parasitic bosses and its location filming in the slums of Yokohama lend a ring of authenticity. Location movie-making allowed Fukasaku to critique post-War Japan's "economic miracle" that he saw as built on foundations of organized crime and government corruption.
With brains, brawn and cool, cruel style to spare, 'Japan Organized Crime Boss' is a fantastic entry point to Fukasaku's earlier movies.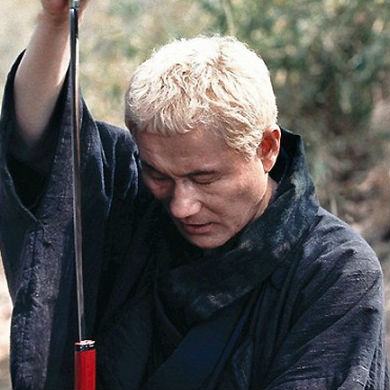 Latest posts by Rob Daniel
(see all)