In a genre where very few British actors are present, it's always nice to see a quality martial artist like Gary Daniels flying the flag for England.  After appreciating his performances in the likes of 'City Hunter' and 'Fist Of The North Star', I was more than happy to hand over the low asking price for this straight-to-DVD offering.
When the British Ambassador's daughter is kidnapped during a riot, there is only one man who can be relied upon to mount a rescue: Shane Alcot!  A retired member of the SAS and holder of numerous Martial Arts trophies, Alcot also happens to be an ex-boyfriend of the Ambassador's daughter.  After accidentally partnering up with a streetwise boxer, he enters into gangland territory where he will have to hope that luck is on his side.
While it's always obvious that the budget is low, 'Riot' is the kind of cheesy action B-movie that can bring a smile to your face. We all know that the hero is guaranteed to save the day and he'll beat every opponent he faces, but it's this predictability that makes it so much fun to watch. Gary Daniels also makes for a solid leading man and he once again delivers in the action department. He is partnered with former pro-boxer Sugar Ray Leonard and the two definitely strike up a decent chemistry that allows for some amusing banter. Of course, the film does still suffer with some typically poor editing during the fight scenes and the conclusion is a little unsatisfying, but it definitely sits on the positive side of the B-movie spectrum.
If you're a fan of Gary Daniels or low budget action movies, then 'Riot' is certainly worth a watch. Admittedly the acting isn't great and you've seen it all done better elsewhere, but if you're in the right mood then it can definitely provide a fun night off for your brain.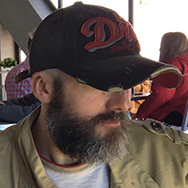 Latest posts by Phil Mills
(see all)