Wong Kar Wai's stunning 1994 wuxia pien film is (in)famous for its troubled gestation. Taking over two years to reach the screen, Wong made his internationally best known film, 'Chungking Express', as breather from this film when editing spiralled out of control.  Expectations were in orbit when the film was eventually released and predictably it drew criticisms.
Watching 'Ashes of Time' for the first time on its tenth year anniversary is maybe the best way to approach it.  Prepared for a compromised classic, it is a genuine surprise to discover the film is a complete success.  The supposedly confused and confusing plot unfolds as a perfectly structured meditation on the curse of memory, the destructive bitterness of unrequited love and the futility of swordplay as a solution.
Leslie Cheung is Ouyang Feng, aka Malicious West, the proprietor of a desert inn, much as co-star Maggie Cheung was two years previously in 'New Dragon Inn'.  Unlike Cheung's feisty character, Feng is emotionally deadened because of his lover's marriage to his elder brother, and acts as an agent for penniless swordsmen.  The characters who visit him, either in need of his services or to offer theirs, form the story.
Huang Yaoshi aka Evil East (Tony Leung Kar Fai) is a lethal blade whose cavalier attitude to life and love has left a trail of recrimination.  Foremost of those seeking vengeance is Murong Yang (Brigitte Lin), a young man whose sister was rejected by Huang.  But, Murong Yin (also Lin) wants her brother dead for trying to harm Huang!  Yin and Yang are of course the same person, schizophrenically broken by Huang's rejection and unable to find a path to peace.  Similar problems confront all the characters, from Tony Leung Chiu Wai's near blind swordsman to Maggie Cheung as the object of Feng's infatuation.  Solace comes only through compromise as discovered by Jacky Cheung's kind-hearted assassin or Charlie Yeung as a peasant girl trying to buy revenge with eggs and a mule.
Far from disjointed or confusing, 'Ashes of Time's plot is a tapestry of emotion, audaciously flashing backwards and forwards and shifting voice-overs to piece together the moments that have led the characters to the barren wastes of the desert.  Taken from Cha Liang-yung's novel 'The Eagle Shooting Hero', but apparently emerging as a prequel to the book, the intertwining tales have the powerful simplicity of fables.  Yin/Yang becoming a master swordswoman by practising on her own reflection and Leung Chiu Wai's desire to see the euphemistic "peach blossom" carries a heartbreaking surprise.
Ashes of Time offended the wuxia crowd who felt the action was insufficient and overly abstract in execution.  Strangely, the use of step printing was criticized after being used liberally a year previously in the much-loved 'The Bride with White Hair'.   Plus, this is Wong Kar Wai, who continually confounds convention while creating something far more satisfying.  While the legendary Sammo Hung is on action duty and there is wirework aplenty, the focus is on characters and faces over spectacle.  But, a near-blind Leung Chiu Wai facing an army of bandits as clouds obscure the sun and Lin explosively tackling her reflection in a lake are spine-tingling moments of excitement.
Maybe the only criticism not levelled against Wong Kar Wai was indulgence of length, as 'Ashes of Time' clocks in at a brisk ninety-nine minutes, accomplishing everything in less time than it took Tarantino to tell the first volume of 'Kill Bill'.
DP Christopher Doyle and Wong Kar Wai match the ambitious storytelling with astonishing visuals.  Taking John Ford's cue on what to shoot in the desert, they traverse the landscape of the human face and are matched by stellar performances from the cream of early nineties Hong Kong cinema.  Doyle also captures the harsh beauty of the red desert, complemented by Frankie Chan's quixotic score which ranges from Eastern pipes to Morricone choral arrangements.
With 'Crouching Tiger, Hidden Dragon', 'Hero' and 'The House of Flying Daggers' bringing respectability back to wuxia pien films, the time is ripe to acknowledge 'Ashes of Time' as a genre classic.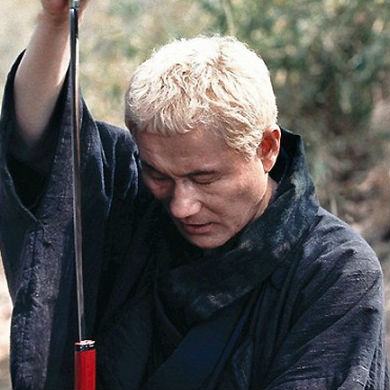 Latest posts by Rob Daniel
(see all)