For audiences raised on Brigitte Lin the blazing-eyed fantasy warrior, her grounded and emotionally raw performance in 'Lady in Black' as May, a loyal, downtrodden housewife, illustrates her breadth of talent, and reminds us again of how much she is missed.
Tony Leung Ka-Fai is perfectly cast as Sang, May's unstable rat of a husband, who persuades her to embezzle $500,000 from her company to pay off a gambling debt, and allows her to fall to a watery grave to cover the crime.  He is soon packing Grandpa (Shih Kien) off to an old folks' home, neglecting his son, climbing the business ladder and bedding the boss' daughter.  Inconveniently for him, May is still alive.
'Lady in Black' could have followed a typical betrayal/retribution plotline and turned May into a deranged harridan bent on vengeance.  Surprisingly, one-time Shaw Brothers director Sun Chung (aka Suen Chung) favours drama over psycho-suspense.  A wise decision, it allows Lin to breathe life into the saint-like May who emerges from her near-death experience physically and emotionally scarred.  Even Leung's character is humanised, with some motivation given to his dastardly deeds.
Sun makes May's fight for justice a true martyr's journey, rivalling Lars Von Trier's persecution of his saintly heroines.  Initially turned away by her closest friend, who is unable to recognize the broken wreck, May then undergoes surgery to rebuild her face and repair her larynx.  But, tragedy is never far away, as a confrontation between Grandpa and Sang expertly escalates tension and climaxes with a shockingly well realized tumble down the middle of a stairwell.  Sang's ambitions ruined and the stage is set for a final showdown between a devastated May and her bitter, unrepentant spouse.  Sun feels the need to remind audiences they are watching a Hong Kong movie by literally bringing the house down for the climax, but ends on a suitably sombre note.
Sun's direction makes full use of rainstorms and claustrophobic framing to wrack up the tension, and he coaxes first-rate performances from everyone involved.  The older generation is well served by Shek (forever 'Enter the Dragon's Han) Kin's touching performance and Kwan San (father of Rosamund) as Sang's boss, whose honesty juxtaposes neatly with Sang's conniving duplicity.  Even the moppet ordered from central casting to play May's son is not too saccharine.
But, this is Brigitte Lin's movie and her climactic tirade against her husband, bursting with anger and confusion lingers as one of her finest screen moments.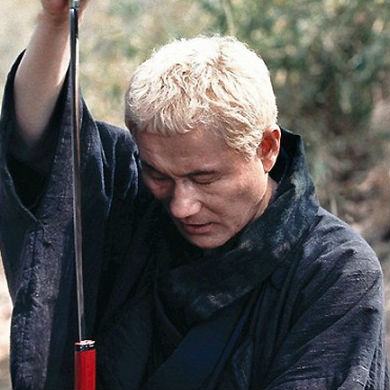 Latest posts by Rob Daniel
(see all)