Park Chan-Wook has quietly built a respectable cult following in the four years since his directorial debut 'JSA', but thanks to the Jury Grand Prix victory at Cannes has stunned the world with the shocking, exhilarating, cruelly comic and ultimately heartbreaking 'Oldboy'.
Park makes cinema with a vengeance.  He loves studying the effects of vengeance.  Although 'Oldboy' reportedly marks the second instalment of Park's Revenge Trilogy, begun with 'Sympathy For Mr. Vengeance' and presumably concluding with the upcoming 'Sympathy For Lady Vengeance', Park's contribution of 'Cut' to 'Three… Extremes', plus 'JSA', all depict characters who sacrifice their humanity for that cold dish.
'Oldboy's premise is irresistible: Oh Dae-su (Choi), a boorish white collar worker estranged from his wife and daughter, is kidnapped seemingly for no reason and imprisoned in a hotel-style room for fifteen years.  On the eve of his escape, following madness and suicide attempts, he is suddenly released.  Confronted by Lee Woo-Jin (Yoo), his kidnapper, he is told he has five days to discover the truth or his new close friend Mido (Gang) will die.
With a plot this mysterious and audacious, the danger lies in protracting the investigation and climaxing with disappointing revelations.  Working from Tsuchiya Garon and Minegishi Nobuaki's original manga, Park and his two co-writers keep the plot steamrolling toward a terrible denouement with surprising twists, Lee finances Oh's investigation and reveals himself early in the game while the reason behind the kidnapping and the revenge is as vicious as Oh's claw hammer.  Dreamlike flashbacks transform this revenger's tragedy into a study of memory and loss, blurring the distinction between the victim and the persecutor.
Definitely not to everyone's taste, but ink black humour and Choi's powerhouse performance prevent 'Oldboy' from becoming unendurable: Oh Dae-Suk hunts down Lee by searching for the dumplings he ate for fifteen years, he takes on an army of heavies in one brilliant shot (apparently shot over three days), tortures his jailer to the strains of The Four Seasons and eats a live octopus.
In Choi Min-Sik Park has an actor perfect for the demands of the role.  An intense hulking bear of a man, he conveys both the fury that has honed his physique and the arrogant stupidity that dooms him.  Yoo's Lee, slyly established as the Dr Frankenstein to Oh's Monster, also succeeds as a charming, intelligent and ruthless nemesis, while Gang's fragile performance is perfect to humanise the beast Mido is trying to redeem.
Park's handling of this explosive material is utterly assured and he also surrounds himself with first class collaborators.  Cinematographer Jung Jung-Hoon's visuals, inspired by 'Se7en' DP Darius Khondji, create a darkly comic book noir, art director Ryu Seong-Hie's bizarre set decoration provides a near subliminal sense of unreality, and composers Park and Jo Yeong-Wook's mournful string based score echoes Hollywood thrillers from the forties and fifties.
With Tarantino screaming his praises and an 'Oldboy' Hollywood remake in the offing (that will inevitably buckle where this film refuses to compromise) Park Chan-Wook can take any direction he chooses.  He has already declined an offer to remake 'The Evil Dead', so here's hoping he does not stray too far from his native Korea, which allows him to make radical and inspiring cinema such as this.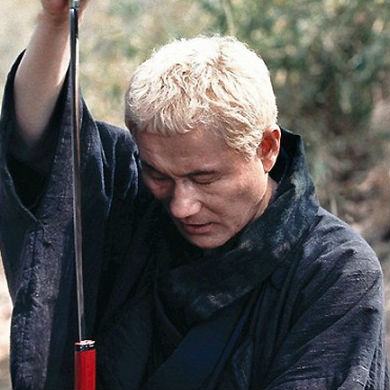 Latest posts by Rob Daniel
(see all)