Police officer Heung Ming (Biao) is having marital problems with his wife.  When the two meet in a restaurant to try and resolve things, Ming's wife is brutally gunned down by a mysterious assassin (Ha).  Ming is furious and immediately sets about trying to track down the killer.  As he begins to uncover more pieces of the puzzle, his enemies become aware of his presence and he is framed for murder in an attempt to keep him quiet.  On the run with no one to turn to, fate dishes up an ironic set of circumstances as Ming finds himself thrust together with the woman responsible for the death of his wife.  However, he soon realises that she too is just a pawn in a much bigger game that leads all the way up to the notorious gangster Lu (Chin).  Now the only option is for both sides of the law to team up in an attempt to put a stop to Lu and his ruthless organisation.
'On the Run' represents a significant departure from the usual martial arts movies for which Yuen Biao became famous. While long-time fans may consider this an instant disappointment, the resulting film is actually a very competent and exciting crime thriller. The story dishes up some intriguing and effective moral dilemmas, as well as providing a fast pace that keeps the viewer hooked throughout. Biao also gives a fine leading performance and he injects an extreme sense of realism into his role that will have you believing he is fighting for his life. Charles Chin is on similarly fine form, and he shakes off his comedic roots to portray a suitably menacing villain.  Director Cheung assists in making the production more believable by keeping the film extremely dark with no room for comedy or intricately choreographed action sequences.  Instead, the few fights that do occur drift more towards an element of panic as combatants reach for anything they can get hold of to defend themselves.
'On The Run' is a superb effort from Biao and a welcome change of pace for an actor who is so often seen as just the "little brother" of Jackie Chan and Sammo Hung.  What's nice here is that he doesn't just get recognised for his acrobatic abilities and gets the chance to act in a very stylish and gritty thriller.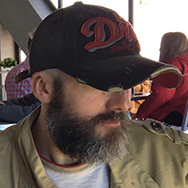 Latest posts by Phil Mills
(see all)