Kinji Fukasaku's best movies revolve around an outsider figure who justly rails against the status quo and corrupt regimes. 'Street Mobster', made a year before Fukasaku leapt to fame in Japan with 'Battles Without Honour and Humanity', maybe the director's most extreme depiction of this theme.
Fukasaku regular Sagawara is Isamu Okita, a bottom-feeding sociopath who blames his misfortune on sharing his birthday with the day Japan unconditionally surrendered to the Allies. Before the opening credits Okita has brawled, murdered, raped and forced girls into prostitution.
Upon being released from prison, he falls in with Kazaki, a timid low-level mobster with ambitions of forming an organization. In Okita Kazaki sees muscle to match his brains, but Okita ignites a mini-street war after scuffling with members of the Takigawa group and a high-level Osaka boss. Perilously wounded, Okita is forced to accept the protection of the Yato gang, Takigawa's chief rival. Life should be smoother with official yakuza endorsement, yet Okita cannot contain his destructive impulses.
A knockabout punch-up of a movie, 'Street Mobster' flamboyantly bloodies the audience's nose with its raw brutality and antisocial behaviour. As usual Fukasaku stresses the direct link between poverty and criminality, and in a rare quiet moment Okita hides out in a prison buddy's failing noodle store, the despair almost peeling off the walls.
What 'Street Mobster' has in social smarts it lacks in sexual politics. Would one of Okita's victim's, abused and sold into vice years before really become his moll and save his life on at least one occasion? But, for all its flaws, stylistically the movie never falters. Fukasaku knows instinctively how to create a sense of danger and chaos with off-kilter camerawork, psychedelic jazz music and committed performances from his cast.
Sagawara boasts the same lethal swagger in the lead role as Malcolm McDowell displayed in 'A Clockwork Orange', and his gurning, dark-side-of-the-moon turn as Okita seems to have influenced every performance by current Japanese B-movie king Riki Takeuchi.
'Street Mobster' boasts the same disregard for likeable characters as Takashi Miike's 'Ichi The Killer', giving some idea of the brutality in store. Ultimately, the film seems knocked out while Fukasaku was prepping 'Battles Without Honour and Humanity' but is recommended for fans of bloody nose moviemaking.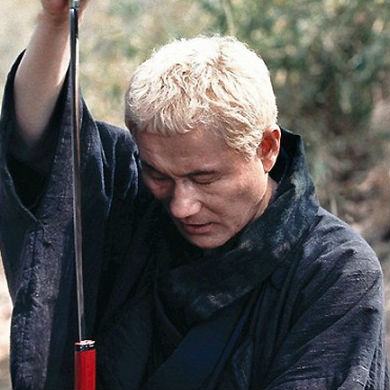 Latest posts by Rob Daniel
(see all)