After the ultimately failed experiment of 'Three' (2002), the loose follow-up 'Three… Extremes' stands as a marked improvement.  Here the three mavericks are Takashi Miike, Fruit Chan and Park Chan-wook representing Japan, Hong Kong and Korea respectively.
Yet, audiences remain likely to walk away bemused because, despite the title, the Category III rating and the track record of two of the three directors (Miike and Park), this is more about extreme ideas than graphic imagery.  'Ichi the Killer' this is not.  And while 'Three' embraced the supernatural, 'Three… Extremes' explores the realms of madness, obsession and violence.
'Box', the opening episode by Miike, is most likely to alienate the gore crowd; its sombre, surreal dream logic and difficult conclusion refusing to court an audience.
Kyoko (Hasegawa), a young writer, finds professional success a hollow comfort for the guilty secret she carries.  A child contortionist, she performed a double act with her sister under the unsettling eye of their stepfather (Watabe).  Envious of the stepfather's (paedophilic) love for her sister, Kyoko stages a prank that goes fatally awry.  Now, years later, Kyoko receives a letter summoning her to the circus marquee once more for a reunion with her master… and sister.
Miike is in 'Audition' mood here.  Low key and haunting with abstract imagery reflecting a mind distorted by guilt and obsession, 'Box' is one of the director's most confident films.  Impeccably mounted and controlled, the story builds from fragments of memory accompanied by stretches of uncomfortable silence or regular Miike composer Koji Endo's haunting musical box melody, and the icy blues of Kyoko's adult life are placed in stark contrast to the feverish ochre of her childhood.
Matching the disturbing visual colour scheme is the suggested relationship the girls have with their stepfather, whose obsession definitely strays into the arena of the unwell.  Cinematic cousins here would be Haneke's 'The Piano Teacher', which also incorporated chilly visuals to tell the tale of a sexually traumatized heroine, and Lynch's 'Lost Highway' for sheer surrealism.
Likely to have viewers reluctant to venture any further, 'Box' proves international recognition thankfully has yet to temper Miike's wilful nature.
Another theme of 'Box' is women's preordained roles in society.  The child sisters repeatedly squeeze into tiny wooden compartments at the behest of their cracked master.  This theme of female subservience carries over into the next film, Fruit Chan's delirious, erotic and offensive 'Dumplings'.
Where Miike played it cerebral Chan opts for viscera to depict the extreme measures women choose to obtain eternal youth.  Revealing the central conceit would spoil the film's morbid surprise, but Miriam Yeung is superb as a middle aged TV-personality, desperate to reclaim her youth and keep her wayward husband (Leung Kar Fei).  Her mania takes her to the squalid apartment of Mei (Bai), and the rejuvenating dumplings for which Mei is famous.  But, the "extra" ingredient is not the weak-stomached.
With flashes of horror and a soundtrack of "wet" effects, 'Dumplings' is a triumph of distressing body horror.  Women's bodies and biology are put through the grinder, with an abortion scene one of the squirmiest moments of unpleasantness in recent memory, while the pay-off to Mrs. Lee's unholy quest for youth is a perfectly executed piece of social horror reminiscent of the best EC horror comic.  Add a climactic moment of vaginal trauma akin to Kim Ki-duk's 'The Isle' and you have the ultimate anti-date movie.
But, 'Dumplings' is a fiery lick of horror with real guts to go with its gore.  Chan and writer Lillian Lee comment on the huge class divide in contemporary Hong Kong, with the working class Mei committing vile atrocities to satiate the whim of the bourgeois Mrs. Lee, but claiming some class revenge with Lee's final social humiliation.  Mei's claims to be far older than her looks and her renditions of Maoist songs while preparing the titular treats also add another layer to her relationship with Mrs. Lee.
Bai's performance reeks of evil and compromised values, but the revelation here is Yeung.  Hitherto a Cantopop queen and star of inoffensive Hong Kong fluff, this is a brave change of pace for her.  That she convinces as a maddened woman twenty years her senior is a testament to a talent not yet fully tapped.
'Dumplings' share many similarities with 'Going Home', the Hong Kong segment of 'Three'.  'Going Home's director Peter Chan is on producing duties here, and both films are also available in extended versions ('Dumplings' features an additional fifty minutes) and both boast breathtaking cinematography from the needs-no-introduction Christopher Doyle, whose good-enough-to-eat images and sumptuous sheen makes 'Dumplings' more disturbing than the cheerful grunge of 'The Untold Story' and its clones.
'Dumplings' themes of class war are focussed on in 'Three… Extremes' closing episode, 'Cut'.
Park's film is the most "mainstream" of the three, but won't be playing the multiplexes anytime soon.  'Cut' tackles the horror staple of home invasion for a pitch black comic tale of social envy, class status and the debilitating influence of violence.
Park is responsible for the recently lauded 'Oldboy' and that film's skewed humour pulsates here, as does the class hatred savagely depicted in his previous 'Sympathy for Mr Vengeance'.
A handsome movie director (Lee) is taken hostage along with his beautiful pianist wife (Kang) by a crazed movie extra (Lim).  The extra resents the director his handsome looks, perfect life, talent and status.  To bring harsh reality into this charmed life, the extra plays a series of sadistically inventive games to ruin the purity of the man he both hates and idolizes.
Park borrows some CG visual flourishes from David Fincher's 'Panic Room' (another film about violence brought into the home), but 'Cut' is no mere hack and paste pastiche.  Played out on a movie set designed after the director's home, it is an intense three-hander (or four counting a near mute child hostage), with the director kept at bay by a length of bungee rope and his wife memorably made into a piano puppet, bound by wires and with fingers glued to the keys.
The rules of the game are simple: perform a despicable act or one by one the wife loses her digits.
Located almost entirely on this one set, 'Cut' avoids a stagy dullness thanks to Park's keen directorial eye.  A kinetic camera gleefully disorientates the viewer, dancing alongside Lim's virtuoso performance (complete with strange speech style apparently based on a local Korean dialect), while compositions alternate between wide-angle shots and uncomfortable close-ups.
As with other home invasion films such as 'Straw Dogs', 'Panic Room' and 'Funny Games', 'Cut' is about how middle-class pacifism will collapse when people are pushed too far, and how the violent impulses unleashed are difficult to control.
An eclectic and compelling triumvirate of screen darkness, it would be a shame if this marked the end of the 'Three' experiment.  How about a film from female directors for the next instalment?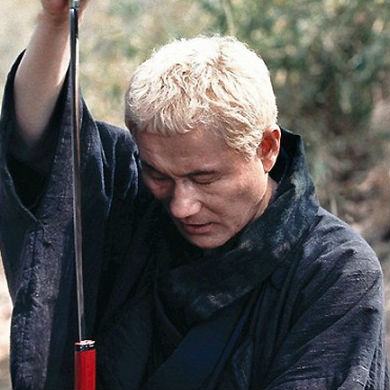 Latest posts by Rob Daniel
(see all)