At the time of writing this, Michelle Yeoh is probably cradling her Golden Globe award proudly to her chest. Deservedly so. Though I have never tasted success of any kind, my Junior School '2nd Place in the Egg & Spoon Race' still sits on my shelf, a reminder of the promise I once had. Yeoh, however, is an immensely talented actress and performer who has reached the apex of her career. And I have no doubt that she absolutely dominated any Egg & Spoon race she competed in during her childhood in Malaysia.
This is a long overdue article, one not necessarily demanded by the award win, but an important kick up this writer's rump. Oddly enough, I have very little interest in modern awards as I have very little interest in recent films. That said, 'Everything, Everywhere All at Once' was quite unlike anything the mainstream has offered recently; breathtakingly bonkers at its best, though frustratingly self-indulgent and clumsy at its worst. Nevertheless, it was a cinematic breath of fresh air, witty and inventive in a way that left many of its contemporaries behind. Michelle Yeoh was excellent – her dry, straight-woman delivery was perfect for the nutty madness happening around her. Who knows where she goes from here, but it would be nice to see her try a role that breaks her out of the stoic matriarch figure she often portrays today.

Police Story 3: Supercop (1992)
It would, of course, be foolish to say people have now 'discovered' Michelle Yeoh. If anything, people keep discovering her, inviting themselves into her cinematic world at different junctures of it. Newer fans of Yeoh might have discovered her from recent appearances in 'Star Trek: Discovery' or 'Crazy Rich Asians'. Those who have followed her journey for slightly longer might point to her performance as Aung San Suu Kyi in 'The Lady', or her part in the phenomenon that was 'Crouching Tiger, Hidden Dragon'. Perhaps it was 'Tomorrow Never Dies' that piqued their interest in this beautiful action heroine. For those even more informed, it might have been the international release of 'Police Story 3' that wowed them as Yeoh just about stole the film from Jackie Chan. All of these are perfectly fine ways to introduce oneself to Michelle; she seems to have had the career of four or five actresses combined! Yet, as mentioned in a previous article (Michelle vs. The Mary Sues), it was films like 'Magnificent Warriors' that brought her to my attention.
I still remember the unusual introduction to Michelle Khan (as she was then known). It was not in an august film journal or the like – it was 'Combat' magazine. Now said publication was the only place one could read about film news from Hong Kong at the time in the UK. Sandwiched between tonfa reviews and people talking about Kenpo karate being the apotheosis of martial arts (I'm not saying it is or isn't, but it just seemed to be the subject of a few articles) were small snippets of what action films were dropping on VHS that month. My brother, the 'Combat' magazine buyer of the family, stood in amazement as he saw an article on this remarkable young lady who had appeared in 'Police Assassins' (aka 'Royal Warriors') and 'Police Assassins 2' (aka 'Yes, Madam!'); his reaction was more 'Carry on Camping' than mine as I was too young to appreciate how stunning she was, but he was equally intrigued about how this seemingly delicate former dancer could be cast as an action heroine. I was too young to watch 'Police Assassins' though did sneak a look at this incredible actress dispatching countless goons in a remarkable way. But not just that; Michelle Yeoh did it with such a charming glint in her eye that one couldn't help but be captivated by her.

Royal Warriors (1986)
I finally went through the Khan/Yeoh catalogue when I was older and leapt wholeheartedly into Hong Kong cinema after a chance encounter with 'Drunken Master' on VHS. What I had gotten a taste of years earlier was finally brought to fruition as I saw the performer doing these death-defying moves and painful-looking action sequences with every bit as much gusto as Jackie and Sammo Hung. Importantly, directors gave her the chance to be charming, feminine, tough, vulnerable, cool, brilliant…all the things that form a fully-rounded performer. I still remember the beginning of 'Royal Warriors' and her cheeky arrogance as she is confronted by some faceless antagonists – it wasn't only her moves that impressed, but also that indefinable elan that genuine stars have. The film also gave her the chance to flex her dramatic acting range while letting her lighter side get exposure in her interplay with doting love interest Michael Wong. It truly was a sign that she would be more than an action star if given the opportunity.
'Easy Money' gave her the chance to move up a level, going from policewoman to female Thomas Crown. Although a wildly uneven film, it was an indication that Yeoh wouldn't necessarily need high kicks to remain in the public consciousness. Her early retirement from the industry in 1987 after marrying Dickson Poon was difficult for fans to accept, though she deserved a 'normal' life as much as the rest of us (though someone married to a millionaire's version of 'normal' and mine are quite far apart). In 1992, though, we got the second age of Michelle Yeoh. Now most assuredly 'Yeoh' and not 'Khan', we were all wondering if she could pick up where she left off; anyone who saw her in 'Police Story 3' will know the resounding answer to that! Thus began this 'Second Age', one that took place while Hong Kong was in full wire-fu frenzy and saw Yeoh dazzling in films like 'Tai-Chi Master' and the 'Heroic Trio' films.

Tai-Chi Master (1993)
This 'Second Age' took Yeoh into even more interesting directions with Mabel Cheung's 'The Soong Sisters' and Ann Hui's 'Ah Kam – The Stunt Woman' giving her the chance to try purely dramatic roles. No matter whom she was paired with, Yeoh showed the same tenaciousness that she had displayed when first becoming an action star, holding her own against the great and the good of Hong Kong cinema at the time. The fact that Yeoh could bounce from 'high-brow' films to fare like 'Wonder Seven' (though I detest this separation between what is considered worthy cinema and what is considered nonsense) was another reason I awaited every twist in her career with eager anticipation. This all lead to one of the moments many thought she had made it – her appearance in 'Tomorrow Never Dies'. I remember seeing the trailers for Pierce Brosnan's second Bond film and feeling slightly dizzy with excitement; I knew her! It was like one of our own breaking into Hollywood, and in typically unapologetic action heroine style. I could finally nudge friends unaware of Hong Kong cinema and wax lyrical on this beautiful Asian lady who, I assured them, could eat Brosnan for breakfast.
My self-created 'Third Age of Yeoh' began with 'Crouching Tiger, Hidden Dragon'. For those who might have forgotten her as the Bond co-star three years earlier, 'Crouching Tiger, Hidden Dragon' was a reminder of the talent of this very special star. Another mix of her physical skills (though not nearly as much as her 'Royal Warriors' days) and her more dramatic aspirations was, for many, what cemented Michelle Yeoh as a worldwide star. It made her a darling of the arthouse set while also nudging others to look back at her rich catalogue of work in action cinema. This, perhaps more than anything else, was what took her from the fringes to the mainstream. 'Crouching Tiger, Hidden Dragon' isn't even one of my favourite Michelle Yeoh films, but I acknowledge how it lifted her to a different stratosphere and made a whole new range of projects possible. It allowed her to impress in 'Sunshine', to try glossy Hollywood fare like 'Memoirs of a Geisha' and to tackle more worthy films like 'The Lady'. No matter where she appeared, there was the definite sense that Michelle Yeoh was a class act.

Crouching Tiger, Hidden Dragon (2000)
So is 'Everything, Everywhere, All at Once' the start of a fourth age of Yeoh? With the awards she has already acquired and the promise of more to come for her tour de force performance, this might well be the case. It will undoubtedly open up a new world of projects for Michelle, and while her days of riding motorbikes onto moving trains might be over, she has proven herself capable of excelling in just about any role. Nevertheless, as regressive as some might consider it, I will always view this remarkable woman through the lens of her first phase and her plucky heroism. Her skills were not only in on-screen fighting – though even today, that is what I'll re-watch – but her ability to make it look all so easy. With my Blu-ray of 'Royal Warriors' days from delivery, I am delighted that one of the many stars who made me fall so completely in love with Hong Kong cinema has now reached these lofty heights.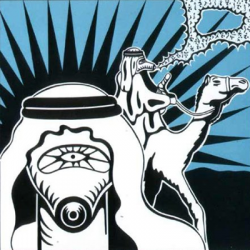 Latest posts by Vasily Pugh
(see all)