Yamamoto ("Beat" Takeshi Kitano) is a no-nonsense member of the Japanese Yakuza who only knows the life of a gangster.  When unforeseen circumstances place him on the top of some important hit lists he is forced to seek refuge and must leave his home land.  The only family he has is his little brother who resides in the good old United States of America so Yamamoto sets out to find him.  Arriving in a strange land he comes up against a few unfriendly natives and soon learns that his sibling is working for some of them as a drug pusher.  Things begin to get out of hand one night when a so-called employer starts beating on Yamamoto's little brother and he has to step in to lend a fist or two.  This seems like the perfect opportunity for the gang to branch out and with Yamamoto's help they go from strength to strength.  However, they didn't count on the Mafia's involvement and before long a full scale war has broken out.
As it aims to reach an international audience, 'Brother' could very easily have gone down the same path as previous "fish out of water" films, such as 'The Master' or 'The Limey', and had its main star compromise his established image to make yet another film in which a super tough foreigner arrives in the good old U.S. of A. Thankfully though, it doesn't and Kitano takes up the reigns as actor, writer and director to craft a film that contains the same masterful blend of characterisation and violence which has made his homegrown efforts so thoroughly enjoyable.
Although it may be classified as a gangster flick, 'Brother isn't the type of film that is littered with huge punch ups or major gun battles. Instead, the real focal point is Yamamoto's introduction into a strange environment and the differences he encounters between the American and Japanese cultures. Whilst this setup may have been used before, it is made all the more interesting by the film's succinct analysis of two very different generations of gangsters; one from a refined era of respect and the other a brash and opinionated youth. Kitano also adds an additional element to the formula and takes his silent expressionism one step further by forcing the lead to use body language due to his poor grasp of English.  This approach is certainly a brave one, but thanks to some strong performances and the odd comedic interlude, it really works in the film's favour.
The action for 'Brother' is short, sweet and to the point.  Kitano never allows for stylish or over-exaggerated gunplay, opting instead for a far more realistic approach; guys walk in, guys get killed and blood is sprayed everywhere.  It's not pretty but it is very effective and clearly makes the viewer more alert to every shot that is fired.  Action sequences are also rarely prolonged and Kitano often chooses not to show the larger battles at all, particularly for a couple of the mafia shoot outs towards the end where the camera remains stationary on the face of a bloody corpse whilst gun flashes light up the night sky.  This may be disappointing for those of you who would like to see your heroes flip around the screen and dodge bullets in slow motion, but this is a far more reserved and heart felt way of using violence to move the story along rather than just being pure eye candy.
'Brother' is a very classy film with some powerful moments that are eloquently shot and acted through the eyes of Takeshi Kitano.  If you fancy something a little bit different from the genre, then this certainly offers a refreshingly gritty yet humorous approach.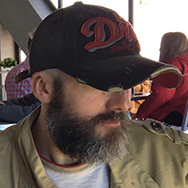 Latest posts by Phil Mills
(see all)