In Shanghai, two rival gangs – the Furious Fox and the Black Eagle – are fighting to establish dominance in the territory. When Ronald, a major gang figurehead and good friend of Ninja master Gordon (Harrison), is killed, it creates unrest in both clans and forces Gordon to become involved. Rather than go himself, he sends his bodyguard Dragon to size up the situation and it isn't long before death comes to visit both sides of town. When it emerges that the real man pulling the strings is fellow Ninja master Paul (Tocha), Gordon goes into training in the hope that he can finally put an end to the conflict.
'Ninja Dragon' is your typical Godfrey Ho hybrid that dusts off the usual smattering of Richard Harrison stock footage and mixes it with a rather slow and uneventful period gangster flick. As you would expect, this fusion of two such different genres (not to mention time periods) make for a very confusing outing, which is made all the more frustrating by an unnecessarily complicated story. For a change, Ho does put in a little effort as he tries to edit together conversations from the two films, but sadly these scenes are far too obvious and the dialogue is as haphazard as ever. On the plus side, it does still feature some fine Richard Harrison moments and a great 80's soundtrack that help it to score a few points on the cheese scale.
The action found in 'Ninja Dragon' is about as predictable as the film's formula, and is really only entertaining in a nostalgic way. The ninja tomfoolery is pretty much what we have come to expect from the Ho/Harrison collaborations, with several short bouts providing the build-up for the final confrontation. On this particular occasion though, it's fair to say that the majority of the fights are average at best and the finale seems to end on an unusually abrupt note. When it comes to the action for the gangster portion of the film, this is primarily made up of shoot-outs, which could have made for an interesting contrast if they weren't so inexplicably dull.
As far as IFD productions go, 'Ninja Dragon' is hardly their finest hour and is really only suited to hardcore fans of the genre (if they exist). Those of you seeking a sane slice of cinema would be advised to look elsewhere.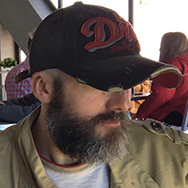 Latest posts by Phil Mills
(see all)