Unlike Hollywood, the Hong Kong film industry has long made use of strong, physical, yet beautiful women to lead many of their action films. For every 'Alien' coming out of the West, we are treated to five 'In the Line of Duty's' making the flickering image of a battling babe nothing unusual to those who live and die in Tsimshatsui.
Female fighters have played major roles on the Jade screen since the mid-twentieth century. Incredibly, the first lady of martial arts has only recently completed another action role in the most successful Chinese film ever: 'Crouching Tiger, Hidden Dragon' (2000). That woman is Cheng Pei Pei. Thirty-five years ago she starred in 'Come Drink With Me' (1966) helmed by the legendary King Hu, which was the first major film to mix female grace with the balletic nature of Peking Opera-style fighting. 'Come Drink With Me' broke box-office records, causing Shaw Brothers to cast Cheng in a number of other martial arts flicks such as 'Golden Swallow' (1969) and 'The Heroine' (1972). Shaw Brothers rival studio, Golden Harvest, had their own answer to Cheng with Angela Mao, most famous in the West for playing the role of Bruce Lee's ill-fated sister in 'Enter the Dragon' (1973). She too appeared in a number of fighting female flicks such as 'The Tournament' (1974), 'Lady Whirlwind' (1972) and 'Hap Ki Do' (1971) with Sammo Hung.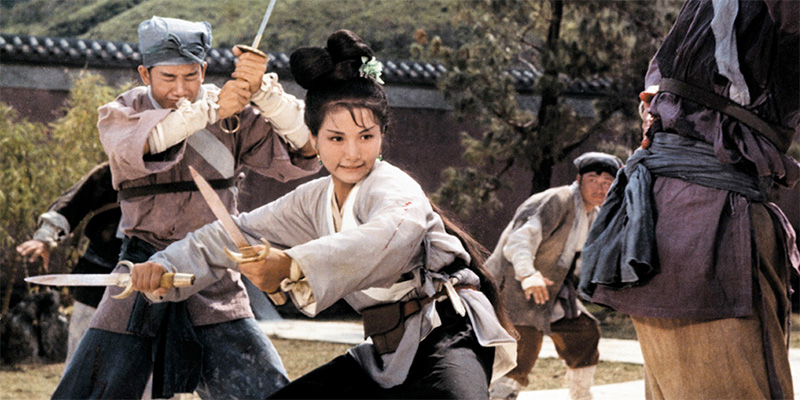 The early 80's saw a new style of modern action film, providing the catalyst for a stream of fantastic battling babes, many of whom have since gained both cult and mainstream followings across the globe. As this new decade developed Yuen Kwai, just as King Hu had done before him, redefined the female role in the action genre by casting a young Michelle Yeoh in 'Yes, Madam' (1984). The movie was also notable for casting a previously unknown Westerner, Cynthia Rothrock, alongside Yeoh as a short-tempered, acrobatic cop ? a role she would subsequently play in numerous other Hong Kong and American action flicks. The finale of 'Yes, Madam' is one of the most hard-hitting, lengthy and well-choreographed pieces of martial arts cinema ever. Although not a true martial artist in the same way as Rothrock, Yeoh?s punishing training, provided by other screen fighters such as Dick Wei, paid dividends as she outshone her Western counterpart throughout the entire sequence. Her speed, grace and willingness to perform dangerous stunts was remarkable, and the viewer can really empathise with her character?s physical efforts, especially when she flies face first through a pane of glass to tackle a couple of bad guys. "Oh my God! It's actually her doing that" is the cry of the H.K uninitiated, having grown up on a diet of Hollywood special effects and body doubles!
Following the massive success of 'Yes, Madam' both Yeoh and Rothrock were hot property in Hong Kong, going on to cement their status as the world's greatest fighting females in a lengthy list of hit movies. Both starred in a number of action flicks for D & B Films, with Michelle starring in classics such as 'Royal Warriors' (1986) in a similar role to that in 'Yes, Madam' and 'Magnificent Warriors' (1987) as a female, high-kicking version of Indiana Jones. Cynthia, meanwhile, teamed up again with Yuen Kwai in 'Righting Wrongs' aka 'Above the Law' (1986) starring alongside the charismatic Yuen Biao. She was originally slated to appear opposite Jackie Chan in the finale of 'Armour of God' as the main villain. However a near death injury for Jackie and the offer of a meatier role for Rothrock prevented this collaboration taking place.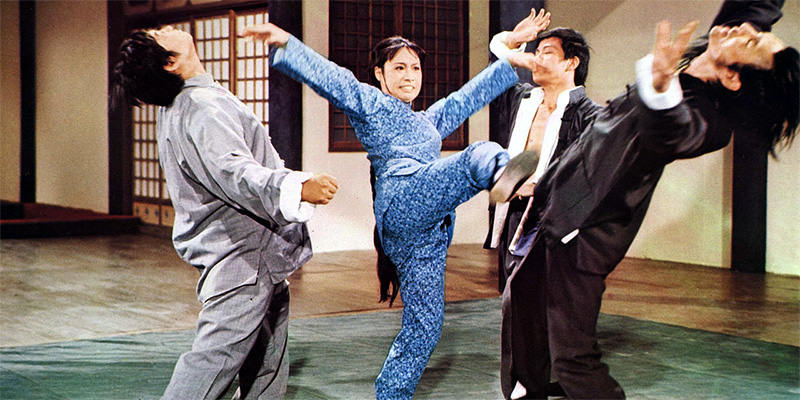 'Righting Wrongs' is undoubtedly one of the best action flicks in the history of H.K cinema, featuring a number of astounding stunts and fight sequences. In the original version, both Biao and Rothrock are killed at the end, however, audiences found this too depressing and the ending was re-shot so that Biao went to prison and Rothrock was merely injured. The version released in Britain as 'Above the Law' features the less tragic ending, but both versions of the film can be found on the Universe DVD release in Hong Kong. A few years later, Yuen Kwai called on La Rothrock to appear in a sequel to his American directorial debut 'No Retreat, No Surrender' (1986). 'No Retreat, No Surrender 2: Raging Thunder' (1989) was a follow up to Jean-Claude Van Damme's breakthrough feature, however, both Van Damme and original co-star Kurt McKinney declined the offer to return, so new leads were cast and the script was re-written with Rothrock playing a sharp-tongued helicopter pilot alongside frequent future co-star Loren Avedon. While not as good as the original, the fight choreography on display was streets ahead of anything Hollywood could offer at the time, and Cynthia showed that she was equally capable playing a slightly softer, more vulnerable character.
Although Michelle Yeoh retired from the industry in 1988 after marrying Dickson Poon of the aforementioned D & B Films, La Rothrock continued to impress, appearing in a number of other films such as 'Millionaire's Express' (1987) and 'Inspector Wears Skirts' (1988) before Golden Harvest launched her in America with back-to-back 'China O'Brien' (1989) films. Unfortunately, these had little in common with her earlier, superior H.K efforts and flopped at the box-office subsequently enjoying greater success on video.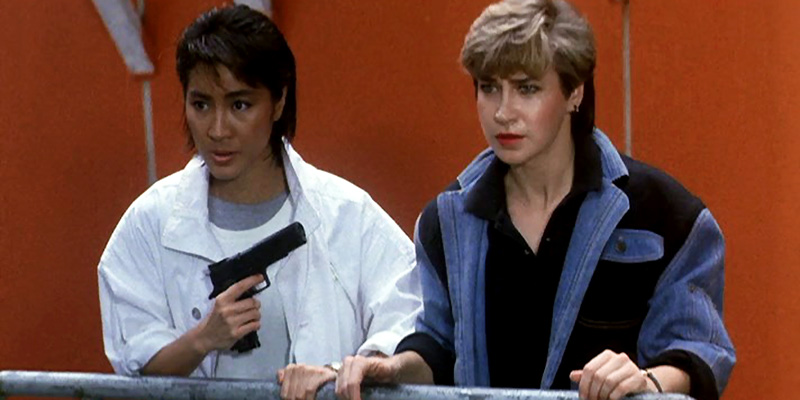 D & B Films scouted for new female talent in the late 80's eventually discovering Leung Yi Tsing, quickly renaming her Cynthia Khan; a combination of Cynthia Rothrock and Michelle Khan. Like Michelle, Cynthia Khan was formally dance trained allowing her the flexibility to perform impressive kicks while giving her a necessary understanding of choreography. Khan made her debut with 'In the Line of Duty 3' (1988) alongside Japanese icon and former bodybuilder Michiko Nishiwaki; however, it was not until the follow up 'In the Line of Duty 4' (1989) where she began to shine. The superior choreography skills of Yuen Woo Ping, Yuen Cheung Yan and co-star Donnie Yen made Miss Khan look every bit the aggressive yet graceful battler needed to give audiences a new female action lead. Three more 'In the line of Duty' films followed before D & B declined and Khan began to star in low budget, lesser-known chop socky flicks. She did return in the early 90's to feature in more impressive productions, notably Sammo Hung's 'Blade of Fury' (1993) and 'Tough Beauty and Sloppy Slop' (1995) but not much else since.
At the same time Cynthia Khan was doing her 'duty' for D & B, Moon Lee and Yukari Oshima had breakthrough roles in 'Angel' (1988), a kind of kung fu Charlie's Angels long before Drew Barrymore had the same idea. Both girls had previously appeared on the Jade screen in a number of action films, however, Lee had never played an action role instead being previously used as eye candy in the impressive 'Zu' (1983) and the Lam Ching Ying classic 'Mr Vampire' (1985). Oshima on the other hand had been seen fighting a group of Sammo Hung's stunt team in the Eastern Western 'Millionaire?s Express'. Lee and Oshima worked together again in the lacklustre 'The Avenging Quartet' (1993), with the result being an average girls-with-guns flick signalling a low point in the popularity of the battling babe genre.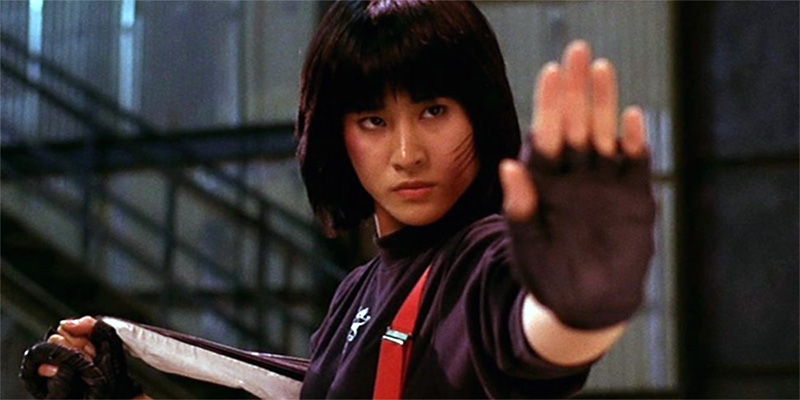 Thankfully, the mid 90's saw a rejuvenation of our beloved femme fatales, helped in no small part by the announcement of Michelle Yeoh's return from retirement. Films like 'The Avenging Quartet' and 'Midnight Angel' (1991) showed that audiences wanted more than just pretty faces from their action heroines. Pretenders like Sibelle Hu, Jade Leung, and to some extent Michelle Khan and Sammo Hung's wife Joyce Godenzi highlighted the need for added screen presence and charisma. Brigitte Lin is one such star. Beauty, charisma and true acting ability have seen her shine as an action lead in period flicks like 'The East is Red' (1993) and 'New Dragon Gate Inn' (1993), a remake of King Hu's 1966 classic in which she starred alongside Tony Leung Kar Fei, Donnie Yen and Maggie Cheung. The striptease duel with the latter being more than worth the price of admission, even if Ching Sui Tung's action set pieces were not. Lin's eclectic nature has seen her in more than just action roles. Movies like 'Police Story' (1985) and 'Chungking Express' (1994) have proved she can just as effectively be a less physical, more flawed character.
Like Brigitte Lin, Michelle Yeoh can still put bums on seats at local multiplexes, and to-date is the only woman to 'out do' Jackie Chan in one of his own films when she played Inspector Wah in her comeback feature 'Police Story 3'. Subsequently, she has reinstated herself as the unofficial No.1 action queen with films like 'Project S', the Yuen Woo Ping vehicle 'Wing Chun' (1994) notable for not featuring any of the titular fighting style, and her Western breakthrough as a Bond girl in 'Tomorrow Never Dies' (1997). If her recent form is anything to go by, with superb fighting performances in 'Crouching Tiger, Hidden Dragon' and a possible, if unlikely appearance in 'The Matrix Reloaded'(tba) she is likely to keep her crown for a good while longer.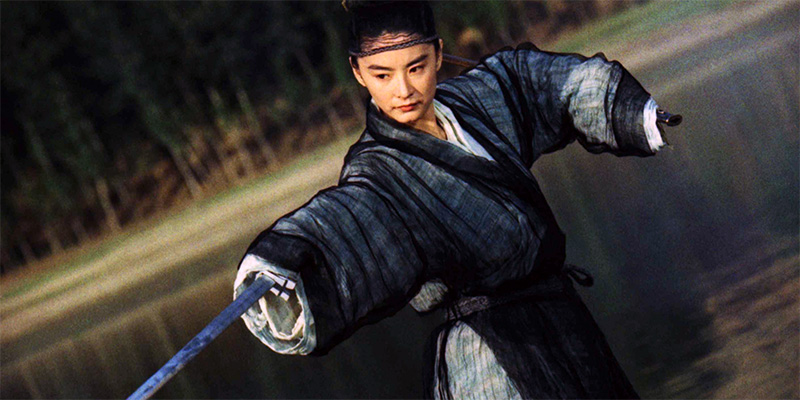 Recent Western infatuation with Hong Kong style action has paved the way for the battling babes to take the world by storm. Yuen Cheung Yan's capable handling of Lucy Liu, Cameron Diaz and Drew Barrymore in 'Charlie's Angels' (2001) have led to previously docile actresses queuing up to be the next high-kicking naked killer. This should ensure that the genre continues full speed, assuming it is handled properly, which it should be if news that Sammo Hung is choreographing a duel in 'View From The Top' (tba) between Gwyneth Paltrow and Christina Applegate becomes reflective of future trends.
While the pioneering films of the 80's like 'Yes, Madam' and 'Righting Wrongs' may never be equalled by future battling babes, it will be interesting to see who throws their hat into the boxing ring next. No doubt the cat fights, scratching and hair pulling by the girls in past Hollywood productions will be replaced by the likes of Kate Winslet and Liz Hurley using a pair of Sai or performing the no-shadow kick! Remember, you heard it here first.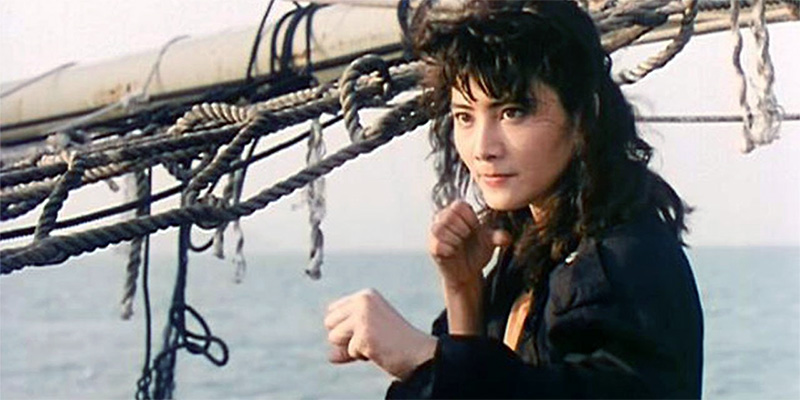 Here is just a few of the pioneering battling babe flicks: